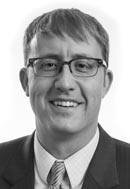 Brian Silvey has led a dedicated and outstanding career by educating a diverse set of students for almost a decade at the University of Missouri. Silvey's commitment to his students' success has created strong relationships with those he has inspired over the years. He has taught an array of classes while at MU and stands out as someone who adapts easily when going from teaching graduate music education courses to basic music skills for non-majors. Silvey is a highly productive scholar, whose research informs his teaching and who uses research findings to improve the tangible skills his students are learning and refining in class. As an accomplished educator and conductor, Silvey has worked with bands across the United States and brings his vast experience home to MU.
Wendy Sims, director of music education at MU, has worked closely with Silvey over the years and has experienced his exceptional work firsthand.
"He is a respected leader, turned to by colleagues and administrators for insightful input and with the knowledge that he will follow through and do his best with any task," Sims said. "His success as a faculty member here, and the esteem with which his research and professional service work are viewed within the profession, make him an inspiring role model for our students."
Bradley Regier, a graduate student at MU under Silvey's advising, said Silvey has been one of his greatest mentors and role models during his three years as a graduate student so far.
"Dr. Silvey is the finest mentor and advisor I have had during my years of higher-education learning," Regier said. "He has allowed my professional interests and goals to guide his advising, while providing his own insights that improve my abilities as a teacher and researcher. Furthermore, he carries out all facets of his educational duties at the highest level."
Christopher Baumgartner is a former student of Silvey's and now works as an assistant professor of instrumental music at the University of Oklahoma. The two have co-authored research together.
"Our similar work ethics and interests in instrumental music education have grown into a productive research track for me," Baumgartner said. "In addition to providing research support, he continues to serve as a mentor for me during the early years of my career and as a teacher, colleague and friend. My doctoral experience would not have been the same without his careful guidance."
Silvey's mission as a teacher is evident through his highly recognized work. Most recently, Silvey was asked to present research at the 2016 International Society for Music Education World Conference and the 2017 Midwest International Band and Orchestra Conference. He has served many roles at MU, most notably as a member of the editorial board for the Journal of Research in Music Education and the College Band Directors National Association Research Journal while also completing a four-year term as the editor of the Missouri Journal of Research in Music Education.
Silvey's students know his interest is genuine and that he cares about their success. MU senior Darren Long recalls Silvey, his academic advisor, helping him through a difficult time his sophomore year when he was in danger of failing a class. Silvey helped him overcome the challenge and end the semester with a passing grade.
"Dr. Silvey is a role model in his character and wisdom," Long said. "His teaching excels, in part, because his students respect him fully and want to learn from him."
Silvey upholds his mission in teaching to high standards. He is a devoted educator who believes that his knowledge, when taught clearly, will have an important impact on the future of music education.
"I hope that my students will start their teaching and research careers more confidently as result of the instruction they received," Silvey wrote in his "Personal Philosophy of Teaching Statement. "If they can demonstrate their passion, curiosity and knowledge about music to their own students, I am confident they will help develop the next generation of those who will cultivate and appreciate the arts."
Silvey earned a bachelor's degree from Morehead State University in music education and a master's degree in music education in 2005. Silvey came to MU to teach in 2009 after having earned a doctoral degree in music and human learning from the University of Texas. He is the past recipient of the MU Writing Intensive Teaching Excellence Award, the School of Music Faculty Excellence Award and the Gold Chalk Award for Teaching Excellence. Silvey's research interests cover techniques in conducting, teacher preparation and music education practices.