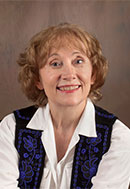 Cheryl Black has been an associate professor in the Department of Theatre in the MU College of Arts and Science since 2005 and was recently promoted to professor. Along with instructing students on acting, she teaches theatre history, theory and criticism using a philosophy that empowers students through an interactive environment in which individuals collaborate to achieve common goals. Her students say her use of experiential and active learning techniques encourages independent creation, self-discovery and self-discipline.
"The diverse teaching strategies Dr. Black employs in her classroom increase student engagement and investment in the course and course material," said Emily Rollie, a doctoral candidate in the theatre department. "Along these same lines, she frequently expresses her desire to learn from her students, a trait which makes her a true collaborator in the classroom and ultimately encourages a strong sense of classroom community and a positive learning environment. She fosters in her students a thirst and excitement for knowledge that energize the classroom and often inspire students to continue their learning beyond the requirements of the class itself."
Black seeks to help her students appreciate the historical and contemporary significance of theatre and drama and to respect the rigors and responsibilities as well as the joys of theatre artistry. She emphasizes the inclusion of multiple and diverse perspectives and invites students to participate in the selection of course materials, creation of assignments and test questions, and self- and peer-evaluations.
"Dr. Black is one of the primary reasons I chose MU for my master's program, and why I decided to stay for my doctorate," said Brett Johnson, an assistant professor of English and theatre at Mercyhurst University. "She is not only a brilliant theatre historian, as indicated by her growing international reputation, but also one of the most kind-hearted people I know. A dynamic teacher, she provides opportunities for students to perform, discuss, write, work as partners and in groups, teach a portion of the material, and experiment with a variety of psychophysical approaches to learning."
In addition to teaching, Black served as the director of graduate studies for her department from 2001 to 2009. Her work in this role has been instrumental in helping to attract top-quality graduate students, facilitating their procurement of fellowships and grants, increasing their participation in regional and national conferences, and helping students complete their dissertations and graduate. Further, Black has directed countless full productions of plays at MU, teaching her students to research and prepare new works and new adaptations of class works and understand the period, style, history and politics of each play production. In 2012, the Association for Theatre in Higher Education awarded her the Outstanding Teacher of the Year Award, the most competitive teaching award in the field.
"Dr. Black is an extraordinary, highly collaborative teacher, and her teaching service to her students, both graduate and undergraduate, has been innovative, incredibly rigorous, generous and far beyond the call of duty," said David Crespy, director of undergraduate studies in the theatre department. "She has created new models for teaching theatre at MU and in the profession of theatre in higher education. I cannot think of another professor in our field who has given so selflessly as a teacher, and with such incredible results."
Black received a bachelor's degree in English, speech and drama from Charleston Southern University; a master's degree in speech and theatre from the University of South Carolina; and a doctorate in theatre history, theory and criticism from the University of Maryland at College Park.