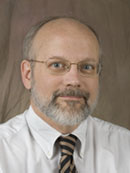 Students consider Thomas Phillips' biological sciences classes "rewarding" and "invaluable." One student said, "I can think of no other professor more deserving of this award than Dr. Phillips. He is the best teacher that I have ever encountered. It has been an incredible honor to be instructed by him."
Phillips received his undergraduate degree in chemistry from Indiana University before going on to Northwestern University for a doctorate degree in pharmacology. He did his post-doctoral training at Harvard Medical School and joined the MU faculty in 1986. His research examines structure-function relationships in both mammalian and plant cells using a wide range of microscopy
techniques.
His teaching responsibilities include a histology course and a writing-intensive senior seminar. He also serves as Director of the Molecular Cytology Core, which is a campus-wide facility for light microscopic imaging.
Phillips is married to Terry Phillips who works as a CPA. Their son, Seth, is a freshman in college.