New book to share teaching tips from Kemper Fellows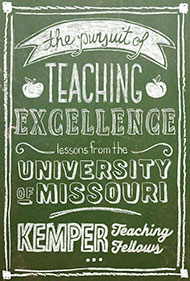 After winning a Kemper Award in 2001, professor Jim Spain regretted that there were not more opportunities for Kemper winners to share their teaching expertise. He wondered whether it would be possible to bring Kemper winners together to create a book in which they did just that. Dr. Spain and Dr. Alan Strathman began inviting Kemper Fellows to collaborate in writing chapters on teaching excellence in many aspects of classroom instruction. The book has always been considered unusual because of the interdisciplinary author teams who developed each chapter. The multiple voices allow the reader to benefit from the varied perspectives and approaches used by these different faculty. The intent is for the book to serve as a "tool box" for faculty seeking ideas to use in their teaching.
The resulting volume, The Pursuit of Teaching Excellence: Lessons from the University of Missouri Kemper Teaching Fellows, is expected to be published in fall 2015.
Forty-five Kemper Fellows have contributed as co-authors, each working on one or more of the chapters. Thirty-five of the faculty are still at MU, with another six of the contributors retired from Mizzou. All of the authors and editors agreed to allow all of the proceeds from the sale of the book to be placed in an endowment "to enhance and advance excellent teaching at Mizzou."
Meanwhile, take a sneak peek at the table of contents.
Developing a Teaching Philosophy: Inspirations from Outstanding Faculty

Peter Casazza, Department of Mathematics
Michelle Arnopol Cecil, School of Law
Mary J. Heppner, Department of Educational, School and Counseling Psychology
Michael J. Porter, Department of Communication
Don Ranly, School of Journalism

Teaching in Large-Enrollment Classes: Ordeal or Opportunity? Testimony from the Trenches

John Adams, Department of Chemistry
Lawrence Ries, Department of Statistics
Ines Segert, Department of Psychological Sciences
William Bondeson, Departments of Philosophy and Family and Community Medicine
Jan Dauve, Department of Agricultural Economics

Laboratory / Studio Courses: Learning through Doing

Deborah Huelsbergen, Department of Art
Michael F. Smith, Division of Animal Science
Steven W. Keller, Department of Chemistry

Using Small Group Instruction to Enhance Learning in the College Classroom

Wendy L. Sims, School of Music & Department of Learning, Teaching and Curriculum
Tim Evans, School of Veterinary Medicine
Lynda Kraxberger, School of Journalism
Thomas W. Dougherty, Department of Management

Capstone Experiences

Benyamin Schwarz, Department of Environmental Design
Elizabeth Chang, Department of English
Karen C. Cone, Division of Biological Sciences
Michael W. Kramer, Department of Communication

Technology: Adding Educational Value through the Use of Instructional Technology

Elizabeth A. Baker, Department of Learning, Teaching, and Curriculum
Bethany Stone, Division of Biological Sciences
Cynthia M. Frisby, School of Journalism
M. Kay Libbus, School of Nursing

Engaging Self and World: Teaching Writing and Thinking

Roy F. Fox, Department of Learning, Teaching and Curriculum
Michael J. Budds, School of Music
Meera Chandrasekhar, Department of Physics
Craig L. Israelsen, Department of Consumer and Family Economics

Problem-Based Learning: Applications for Undergraduate Teaching

Mark R. Ryan, Department of Fisheries and Wildlife Sciences
Joshua Millspaugh, Department of Fisheries and Wildlife Sciences
Louise Thai, School of Medicine
Ezio Moscatelli, Department of Biochemistry

Assessing Student Learning and Assigning Grades

Mary Grigsby, Department of Rural Sociology
Tom Phillips, Division of Biological Sciences
Frank Schmidt, Department of Biochemistry
Jim Spain, Division of Animal Science

Issues in Graduate Student Training and Development

Patricia Okker, Department of English
David W. Emerich, Department of Biochemistry
Daniel B. Turban, Department of Management
Charles M. Borduin, Department of Psychological Sciences

Issues of Diversity in the Classroom

Leigh Neier, Department of Learning, Teaching, and Curriculum
Suzanne Burgoyne, Department of Theatre
Wayne Brekhus, Department of Sociology
Laurie B. Mintz, Department of Educational, School, and Counseling Psychology
Carol E. Anderson, Department of History

Creating Teaching Scholars

John Adams, Department of Chemistry
Bryan Garton, Department of Agricultural Education
Bill Bondeson, Departments of Philosophy and Family and Community Medicine