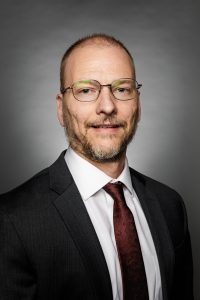 It's common knowledge at the University of Missouri Department of Economics that Eric Parsons is an excellent teacher and a trusted mentor. Winner of the Walter L. Johnson Excellence in Teaching Fellowship, the Purple Chalk Teaching Award and the Nouss Teaching Excellence Award, Parsons has also been recognized by colleagues for promoting a wider interest in economics and by students for contributing to their ongoing success.
Parsons has served as director of undergraduate studies for the Department of Economics since 2019. In that role, he provides guidance to current students while helping to introduce a new generation to the field. Parsons is also an associate teaching professor who interacts with more than 2,000 undergraduates each year through his Principles of Microeconomics course. Parsons has been instrumental in rethinking the economics curriculum to better speak to the many backgrounds and experiences of the Mizzou community, contributing to the department winning the inaugural American Economic Association Award for Outstanding Achievement in Diversity and Inclusion.
"Parsons' accomplishments and contributions to the success of our program cannot be exaggerated," said Jeffrey Milyo, in a letter nominating Parsons for the Kemper Award. Milyo is chair and professor in the Department of Economics. "But cataloguing these points misses perhaps his most important attribute: Parsons loves being a teacher at Mizzou. He is completely dedicated to his craft and to his students."
Destiny Muller, an undergraduate majoring in economics and journalism, said Parson's love of teaching and learning are apparent in his sincere interest in the subject matter and sharing it with his students.
"One time at the end of a lecture about cryptocurrencies, we ended a little early to play a game of 'would you rather,'" Muller said. "I read out to the class, 'would you rather get paid $1 million a year to do nothing or do your dream job and not get paid at all?'"
Parsons' response was instant — he would rather do his dream job. And what was his dream job?
"This, this is my dream job," Parsons said. "there's nothing in the world I'd rather do."
Muller said Parsons is a wonderful instructor because he is fueled by the best the university has to offer: "Knowledge, camaraderie and the ambition of youth."
Kadie Clark, who graduated from MU in 2021 with bachelor's degrees in economics and geography, worked with Parsons as a Peer Learning Assistant for Principles of Microeconomics. Clark said Parsons showed her how collaboration and curiosity can inspire others.
"In the simplest of terms, Dr. Parsons is a champion for student success both in and out of the classroom," she said.
Clark cites Parsons with showing her how to consider many complex factors when generating research.
"Dr. Parsons has taught me and many others that questioning the relationship between the economy and other disciplines is both natural and essential, and that at least a basic understanding of economics is relevant for all," she said.
Current economics undergraduate, Olivia Skeans, also credits Parsons with encouraging her academic achievements. Skeans said Parsons advised her on multiple scholarships and research opportunities.
"In all of our experiences together, he has never hesitated to sacrifice his own time to ensure I was given the proper support in order to achieve success," she said.
A true Tiger, Parsons received bachelor's degrees in economics and history, master's degrees in economics and applied mathematics and a doctorate in economics from the University of Missouri.