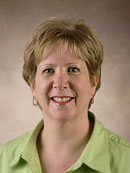 Fran Arbaugh is dedicated to helping teachers understand and extend their students' mathematical thinking and reasoning.
Arbaugh's research focuses on mathematics teachers' education, especially in professional-development projects, and on contexts of learning, through vehicles such as teacher study groups and college courses. Her studies have been published in journals including The Journal of Mathematics Teacher Education and Teaching Children Mathematics.
Arbaugh teaches undergraduate and graduate courses to prepare mathematics educators. Her focus is on preparing middle school and secondary school mathematics teachers, but she also has pioneered efforts within the Department of Learning, Teaching and Curriculum department to mentor graduate students in the area of college teaching. She routinely engages mathematics-education doctoral students in the preparation and instruction of undergraduate classes, helping them organize syllabi, select instructional resources and develop assessments.
Arbaugh is regarded by students as a demanding but accessible instructor. Students praise her for her ability to organize instruction, stimulate reflection and inspire a love of mathematics. She is described as "masterful in crafting activities that would encourage prospective teachers to think deeply about the importance of student understanding." One former student said, "Fran Arbaugh has a way of bringing out the best in math teachers. She takes my thinking and teaching to levels above what I think I can do, and it's always with a question."
Another former student said, "Dr. Arbaugh held such high expectations that none of us wanted to disappoint her, which often meant working harder in her class than we did in our other coursework."
She has earned several "High Flyer" teaching awards from the College of Education. For four consecutive years, Honors College graduates have selected her as their mentor to participate in the Honors Convocation.
In 2004, Arbaugh was nominated for the Provost's Outstanding Junior Faculty Teaching Award, and last year, she received the MU Excellence in Education Award.
Arbaugh earned a doctorate in curriculum and instruction/mathematics education from Indiana University, a master's degree in curriculum and instruction/secondary mathematics education from Virginia Commonwealth University, and a bachelor's degree in family and child development from Virginia Polytechnic Institute.