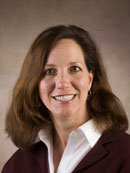 Lynda Kraxberger's willingness to adopt new teaching strategies is what distinguishes her from being a good teacher, who presents information and demonstrates ideas, to being a great teacher who inspires.
She joined the Missouri School of Journalism in 1993, where she oversaw the broadcast news portion of the curriculum at the NBC and CNN affiliate KOMU-TV, the only university-owned commercial television station in the United States that uses its newsroom as a working lab for students.
Seven years later, Kraxberger moved from the television station to the traditional classroom and began teaching Broadcast I. During the five years she taught the introductory course for radio-television journalism students, she never used the same syllabus twice, as her approach and subject matter changed constantly to adapt to changes in the field and in her students.
In 2005, Kraxberger became a founding member of the school's newest sequence: convergence journalism, an emerging discipline of cross-media cooperation involving broadcast, print and the Web. With this assignment she has co-created and co-taught four new courses. This spring, the school graduates its first full class of undergraduate and master's students with degrees in convergence journalism.
"The sequence has been a challenge to Lynda, and she's meeting it with a first-one-in, last-one-out work ethic," says a colleague.
"Lynda spends considerable time preparing each lesson so that she is familiar with the software and hardware and can be prepared for most any possible question or situation," her teaching assistant says. "In this rapidly changing world of technology, Lynda is working hard to stay at least one step ahead of the students — and that is no easy task."
Like many of the school's faculty with professional media responsibilities, Kraxberger did not come to Mizzou with any teaching experience. She has honed her skills in and out of the classroom by attending 10 conferences devoted to teaching excellence and providing workshops for other faculty members. She served for five years on the campus curriculum committee. In the past two years, her leadership as chair of the school's technology committee has resulted in an academic transformation grant from ET@MO to enhance student career opportunities through the creation of electronic portfolios. The journalism faculty recognized her teaching excellence two years ago with the school's highest teaching honor, the O.O. McIntyre Distinguished Teaching Award.
Kraxberger received a bachelor's degree in foreign affairs from the University of Virginia-Charlottesville in 1984 and a master's degree in broadcast journalism from Mizzou in 1988.