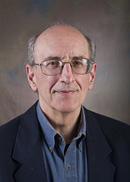 Michael Ugarte introduces students to Spanish language, literature and culture by helping them experience a new view of the world. Specializing in 18th-, 19th and 20th-century Spanish literature, he is the Catherine Paine Middlebush Professor of Romance Languages, a chaired professorship that recognizes teaching and scholarly achievements.
Chad Montuori, doctoral candidate in romance languages and literatures
"Ugarte's commitment to his students' intellectual growth is readily apparent in the creative and innovative courses he has developed for their benefit and in the care he takes in mentoring those who elect to pursue individual programs of study under his direction," says Flore Zephir, chair of the Department of Romance Languages and Literatures.
Ugarte blurs the line between research and teaching in his work. He views the classroom as a crucible of ideas, where students analyze heavy text in foreign languages for hidden meanings, and he uses this approach to make students more comfortable with the language.
"Ugarte has served as a caring mentor to students from all economic and cultural backgrounds," says Margaret Olsen, a former colleague. "He is happy to clear a seat in his office to share academic wisdom with any student who appears at his door in search of knowledge."
In the classroom, Ugarte likes to ask his students who did not grow up speaking Spanish to "transform" themselves into someone else in order to better understand the feeling behind the text or poetry while contemplating its significance.
"Ugarte's capacity to mediate between the text and the students' attitudes comes not only from his talent for teaching literature but from his trust in and respect for students," says Carolina Ebeid, a former student.
Ugarte earned a doctorate from Cornell University in 1978.