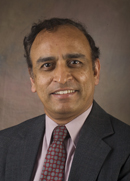 Srinath Gopalakrishna compares preparing for lectures to training for a race; both involve combining multiple strengths, strategies and training methods to perform best in an unpredictable atmosphere.
Gopalakrishna teaches marketing in undergraduate, master's and doctoral programs in the Robert. J. Trulaske, Sr. College of Business and serves on dissertation committees and the college's MBA Policy Committee.
Tim McCarty, senior in marketing
"Gopalakrishna introduces each marketing concept and lesson as if it is a fantastic new discovery for mankind because it is, in fact, a new discovery for the students he is teaching," says Eric Schupp, a former student. "His empathy and ability to understand the classroom learning experience from the students' perspectives mean that he truly allows himself to experience these discoveries with us."
Bringing enthusiasm and in-depth knowledge of the subject matter to the classroom, Gopalakrishna challenges students to think outside the box and challenges himself to make lectures informative and interesting. His students consistently rate him as an effective professor at teaching the fundamentals of marketing as well as new techniques for students need to learn as the field evolves.
"The most significant separation between Gopalaskrishna and other professors is his focus on applying classroom theories toward solving real-world problems," says Timothy McCarty, a former student. "He guides classroom discussions in a way that extracts ideas from everyone, even the most shy and timid students, creating a thorough collaboration of ideas that compound and build off one another to reach the core idea of the day's lesson."
Gopalaskrishna's teaching skills earned him the David and Judy O'Neal MBA Professorship in 2008, the college's O'Brien Award for teaching excellence in 2005 and selection for the Department of Marketing's annual faculty teaching excellence award in 2009.
Gopalakrishna earned a bachelor's degree from the Indian Institute of Technology, a master's degree from the Indian Institute of Management and a doctorate from Purdue University.