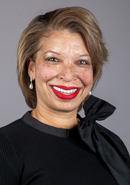 Antoinette Landor has long been recognized for her dedication to students. As an associate professor and Millsap Professor of Diversity and Multicultural studies in the Department of Human Development and Family Science at the University of Missouri, Landor has mentored more than two dozen undergraduates, many of them McNair Scholars.
Recently, she was named a 2020 Outstanding Undergraduate Research Mentor of the Year at MU and a 2020 National Undergraduate Research Mentor by the Board on Human Sciences of the Association of Public and Land-Grant Universities.
Landor, who also is co-founder and director of the Center for Body Image Research and Policy, arrived at Mizzou six years ago after completing her postdoctoral fellowship at the University of North Carolina-Chapel Hill. Much of her research focuses on the impact of racism and colorism on individual, relational and family health. She prides herself on being a dedicated mentor and someone her students can look up to, regardless of their race.
Since arriving at Mizzou, Landor has worked to create a classroom environment in which students can have honest and thoughtful conversations about sensitive issues. As a result, students have consistently noted that Landor has positively changed the way they view race and culture issues, including Jacob Douglass, who took Landor's class about Black families in 2018.
"As a cisgender white male from a middle-class family in rural southern Illinois, I was sheltered from nearly all aspects of the black experience," Douglass said. "Dr. Landor's class was my first exposure to that in an academic setting. It opened my eyes to a whole worldview and experience that I spent a large chunk of my life blind to."
Landor dedicates much of her time to mentoring students, many of whose lives have changed because of her commitment. Besides mentoring students, Landor has overseen the research of more than 20 undergraduate students and more than 45 students at the graduate and postdoctoral levels in the department of Human Development and Family Sciences. Former graduate instructor, Alaysia M. Brown, said Landor helped empower her as an instructor.
"She has taught me how to navigate teaching as a woman of color, particularly as it relates to establishing authority and dialoguing about socially-sensitive issues," Brown said. "During times where I struggled to find my voice, she has been unwavering in her provision of knowledge, wisdom, and encouragement. In addition, her work in the classroom continually affirms the power of my identity and the importance of my role as an BIPOC instructor."
Landor's colleague Duane Rudy, an associate professor with the Department of Human Development and Family Studies, has noticed the impact Landor has had on her students and is impressed with her ability to affect her students' lives.
"Overall, Dr. Landor is an outstanding teacher and university citizen," Rudy said. "She has meaningfully impacted the lives of many students, their families, and communities. Our department, the university, and the community more broadly have benefited from her activities."
Landor's own achievements are extensive as well. She has been a nominee for two of the most distinguished awards of the NAACP, the Carter G. Woodson Faculty of the Year and the Frankie Freeman Faculty of the Year awards. She was also a nominee for MU's Inclusive Excellence Award.  Sandy Rikoon, dean emeritus of the College of Human Environmental Sciences, said she represents the university well.
"In essence, Dr. Landor represents the quality of young African-American faculty essential to campus missions of inclusivity and diversity," Rikoon said. "Her area of work is critical to society, and she is clearly an impactful teacher inside and outside the classroom."