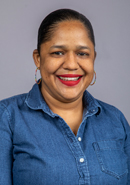 Knowledgeable. Dedicated. Charismatic. Personable. Those are just some of the words students and colleagues have used to describe Sheri-Marie Harrison, an associate professor of English in the College of Arts and Sciences at the University of Missouri. Known for her unique and interactive lectures as well as a good-humored spirit, Harrison has consistently scored high on student evaluations, and her class is often considered a student favorite.
Harrison joined the Department of English in 2008, and quickly became a beloved member of the faculty. Her research and teaching centers around Caribbean literary and cultural studies, contemporary global Anglophone literature, and mass culture of the African Diaspora. Harrison teaches multiple, upper-level courses, which students often described as challenging, intellectual and engaging.
Beyond the classroom, Harrison serves on numerous graduate student committees. Elijah Guerra, a doctorate student under her advisement, said Harrison is invested in the success of each of her students.
"Professor Sheri-Marie Harrison has had a wonderful impact on my growth as a writer, scholar, student and teacher," Guerra said.
Harrison is not only committed to her higher-level English students and doctorate candidates, but also to her general education students. In 2015, Harrison began teaching English 1100: Reading Literature, an experimental, entry-level course. This course was designed to introduce literature to non-majors in a large-scale lecture setting — an atypical structure for an English course. But with the help of Harrison, this new course has become a popular success. In fact, many students who entered Harrison's entry-level class uninterested in literature have reported leaving the course as passionate English majors.
Harrison does not shy away from challenging topics in her lectures either. Instead, she mediates these topics with intellect and inclusion, resulting in a meaningful class discussion. For example, Harrison has facilitated conversations about race to a diverse group of students.
"I would always come out of her class thinking about different perspectives," MU student Evander Gonzalez said.
Her teaching philosophy employs a student-centered, active and collaborative learning environment. She believes that students better form relationships with each other and the world when they see themselves as knowledgeable participants in the context that surround them. Her positive influence has inspired many of her students, including Noah D. Hollennkamp, an early childhood educator and former English student.
"Dr. Harrison instilled a passion for reading," Hollennkamp said. "She was a welcoming presence during a melancholic time of my life."
Harrison is considered an expert in her field. She has over a dozen publications, with research appearing in The Oxford Research Encyclopedia, The Los Angeles Review of Books and The Journal of West Indian Literature.
"She is not just an outstanding advisor and mentor to several of our undergraduate and graduate students, she is also a scholar of national and international repute," said Christopher Okonkwo, an associate professor of English at MU.
Harrison graduated from the University of Miami with a doctorate in English in 2008. Since 2018, she has served as the College of Arts and Sciences Faculty Fellow for Faculty Development, Inclusion, and Diversity. Harrison is a part of multiple professional associations as well including The Association of the Study of the Arts of the Present, the Caribbean Studies Association, and the Modern Language Association.