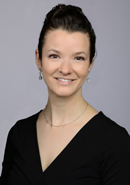 Heather Hunt has developed a reputation at the University of Missouri College of Engineering as a leader in educational technology and an engaging, effective teacher. Winner of the outstanding instructor award from graduating seniors in 2015, 2018 and 2019, as well as the 2015 College of Engineering Junior Faculty Excellence in Teaching Award, Hunt has been repeatedly recognized for her excellence by students and colleagues alike.
Hunt served as director of undergraduate studies for the biomedical engineering and biological engineering programs from 2017-2020, providing career and curricular advising for hundreds of students. Currently, she serves as the director of MU's biological engineering online master's degree program and as a strategic initiatives fellow in the University of Missouri System's Office of eLearning, roles that have put her in the spotlight during the COVID-19 pandemic.
"Her ascension into the faculty fellow role in the Office of eLearning, just before the COVID-19 pandemic, made her the go-to faculty resource for the transition to online learning," said Noah Manring and Kevin Gillis in a letter nominating Hunt for the Kemper Award. Manring is interim dean of the College of Engineering, and Gillis is chair of the college's Department of Biomedical, Biological and Chemical Engineering. "Her regular, reassuring presence at weekly Zoom meetings helped guide the campus through the unprecedented educational challenges of the pandemic."
Emily O'Brien, who graduated from MU in 2015 with a bachelor's degree in biological engineering, joined Hunt's lab in her sophomore year and found that Hunt became much more than a research advisor.
"Dr. Hunt was a personal mentor and role model, and she taught me how to lead by example," O'Brien said. "If we were working overtime in the lab, on a paper or on a poster, you could be assured that she was working as hard — but likely harder — to ensure our success."
O'Brien also credits Hunt with the development of her professional career.
"My research in the Hunt lab unearthed countless academic opportunities, but most importantly helped me discover my passion for optics and applied medicine," she said. "Dr. Hunt has been integral to my professional success and will be for so many future Mizzou graduates."
Similarly, Janae Bradley, a doctoral candidate in biomedical, biological and chemical engineering at MU, has seen Hunt as a powerful role model. Bradley was paired with Hunt through the Mizzou Women Mentoring Women program, which provides a support network for female engineering students.
"Dr. Hunt not only provided advice on how to navigate through engineering classes, but also gave me an incredible example of what a successful woman in engineering looks like," Bradley said. "Without a doubt, I would not be where I am without her keen insight, honest advice and wonderful mentoring."
Hunt received a bachelor's degree in chemical engineering from Iowa State University in 2009, as well as a master's degree and doctorate in chemical engineering from California Institute of Technology in 2007 and 2009, respectively.