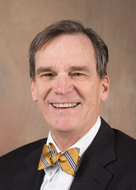 Associate Professor
Magazine Journalism
Vox Magazine
School of Journalism
MU Faculty Member Since 2003
Berkley Hudson's students and peers consistently describe him as a dedicated, innovative and compassionate teacher who places a high priority on finding out who his students are as learners.
Caleb O'Brien, master's student in journalism
"Berkley Hudson is a rare breed," says John Fennell, an associate professor at the MU School of Journalism. "One of his mentors described him as a hothouse orchid — an apt image for a professor who constantly shows his students how beautiful journalism can be. His goal is to inspire confidence in students, to get into their minds and souls, where real, lasting learning happens. He wants to place his indelible mark on students who pass through our corridors so when they leave here they remember what inspired them to be here in the first place: to tell stories that matter and to bring meaning to our world."
At MU, Hudson teaches intermediate and advanced magazine-writing courses and has served as a writing coach to students for Vox magazine. He is known for his ability to captivate the attention of his students with unconventional methods and engaging stories. In the classroom, he uses props such as musical instruments, connecting the composing of unforgettable melodies to the writing of well-developed stories.
"I've only known Berkley for a semester, but already he has impressed me as an extraordinarily creative and energetic teacher with much to offer his students," says Paige Williams, associate professor at the MU School of Journalism and contributing writer for the New Yorker. "Berkley's methods, which include drums, weird hats and field trips to exotic caves, have achieved legendary status for good reason: Students exit his classes with minds zapped awake to the possibilities of writing. His lessons cannot help but leave a lasting, meaningful impression."
Hudson is a magnetic teacher who builds long-lasting relationships with his students. His students have gone on to write for media outlets including Men's Health and ESPN. He works hard to discover what makes each student special and helps his students take full advantage of those qualities in work and in life.
"Being a teacher isn't something that Berkley Hudson just does; it's something he is," says Heather Lamb, assistant professor at the MU School of Journalism and Vox editorial director. "I have watched Berkley hold the rapt attention of an entire room of students, teaching assistants and faculty as he shared his vision for a magazine piece or his knowledge and passion on a topic. He pushes all those with whom he comes into contact to think more, care more, try differently — and he helps students become the best versions of themselves."
Hudson has taught at the University of Rhode Island and California State University's Fullerton and Los Angeles campuses. He is an experienced reporter and editor who has worked for the Los Angeles Times and the Providence Journal. He currently serves as editor-in-chief of Visual Communication Quarterly, an international peer-reviewed journal.
Hudson earned a bachelor's degree from the University of Mississippi, a master's degree from Columbia University and a doctorate from the University of North Carolina at Chapel Hill.