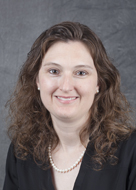 Assistant Teaching Professor
College of Agriculture, Food & Natural Resources
MU Faculty Member Since 2007
Trista Strauch's students and colleagues say she has excelled in her role as an educator, improving student learning, performance and enthusiasm.
Rachel Nolen, animal science alumna and first-year veterinary-medicine student
"Dr. Strauch is not only a gifted teacher but also has the compassion to help students become self-learners and problem-solvers in any field they choose," says Rodney Geisert, professor of reproductive biology at MU. "Students love her not because she is easy but because she pushes them to accept responsibility for their own educations and choices. Dr. Strauch is willing to help every student, but she expects nothing short of their full commitment and willingness to go beyond average.″
Originally hired to serve as coordinator for the Division of Animal Sciences' newly established captive wild management minor emphasis, Strauch has since taken on the revision and updating of the Department of Fisheries and Wildlife Sciences' introductory zoology course.
Strauch says her philosophy of teaching has four main components: 1) Teaching is interactive and requires the establishment of trust. 2) Students learn best through personal discovery. 3) Students must be trained to critically evaluate and apply information. 4) Students need to take personal responsibility for their education.
"Hands down, our most successful undergraduate experience, involving some 150 students, is entirely due to Trista's efforts and energy," says John Jones, professor and chair of the MU Department of Fisheries and Wildlife. "She teaches an introductory course on captive-animal management that includes guest speakers from the industry. The senior seminar is taught in two sections to accommodate class conflicts, and she oversees scores of summer internship experiences at zoos and similar facilities in numerous locations, including Alaska."
In addition to teaching, Strauch advises nearly 200 students a year, and in 2014 she wrote more than 65 letters of recommendation for those students. Strauch also serves on multiple committees and boards, including the CAFNR Advising, Learning and Teaching Enhancement Committee; the Office of Service Learning Advisory Board; and the Animal Sciences Academic Affairs Committee.
"Dr. Strauch is clearly a professor any student would be lucky to have, but she also works just as hard to be an excellent adviser," says Rachel Gerrard, an MU graduate student. "From personal experience with her as an adviser, I know that she will spend as long as it takes with students to talk out any issues until they can leave her office feeling comfortable with their schedule, career objective, or project design."
Strauch earned bachelor's and master's degrees in animal sciences from the University of Missouri and a doctorate in physiology of reproduction from Texas A&M University. She completed post-doctoral research at the Animal Physiology Research Unit at United States Department of Agriculture's Agricultural Research Service in Columbia, Missouri.