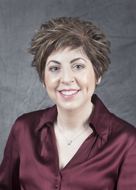 Associate Professor
College of Arts & Science
MU Faculty Member Since 2001
From facilitating difficult class discussions to serving as an advocate for freedom of sexual orientation, Elisa Glick combines compassion with intellectual rigor in her teaching. She challenges her students to be better people, thinkers and citizens.
Mary Bifulco, senior in women's and gender studies
"Beyond compassion and time spent nurturing individual students, Glick's teaching strategy requires personal bravery," says David Read, chair of the MU English Department. "She teaches students to value personal experience as a form of knowledge that they can understand in a historical, social and theoretical context. Sometimes this means putting her own personal experiences on the line."
Glick was one of the first openly gay faculty members at MU. In addition to teaching and mentoring a significant number of students as an adviser, Glick makes her classroom a safe space for learning about and discussing issues pertaining to gender and sexuality.
"Students see bravery in Glick's choices of content and supporting materials for her classes, which includes sharing her own lived experiences with the class," says Joan Hermsen, associate professor of sociology and chair of the Department of Women's and Gender Studies. "Glick challenges students to open themselves to dialogue about theories of gender and sexuality that are, for the most part, completely new to students. Students have said her courses push boundaries for them both academically and personally, teach them how to engage with difficult and challenging material in a thoughtful manner, and affirm students as important agents in their own education."
Glick says she believes teaching is much more than an intellectual exercise. Teachers, she says, perform a crucial social function by helping students to unlock their minds and see the world in new ways. She professes a commitment to helping students connect academic questions to social realities by teaching them how to think rather than what to think.
"Dr. Glick has the reputation of being both an incredibly intellectually rigorous professor and also extremely warm, kind, compassionate and caring," says Rebecca Dingo, an associate professor in English and women's and gender studies at MU. "During my two years as director of undergraduate studies for women's and gender studies, her classes were always full, and students consistently reported their love for her classes. They reported feeling welcomed and challenged in her classes, not only because of the subject matter but also because Dr. Glick pushed them to think about identity and representation in new ways."
Glick earned a bachelor's degree in English and political science from the University of Pennsylvania and a doctorate in English from Brown University.