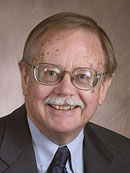 Professor John Bullion can make his subject appealing to almost anyone, even those students who think they hate history. "When I was his assistant for a small honors course, the students were so enamored of him that more than half of the class expressed to me their desire to take another course with him even though they were not history majors," says one former teaching assistant. A graduate recalls, "Countless times I'd look down and realize I'd stopped taking notes because I had just sort of been absorbed into the topic and its presentation."
Students praise Bullion's knack for finding contemporary relevancy in the past. They also appreciate his ability to challenge their thinking while remaining open and respectful to their opinions. "He has consistently demonstrated a unique ability to connect with a wide variety of students in ways that are both humane and intellectually challenging," a colleague says.
Bullion earned his bachelor's degree from Stanford University and his master's and doctoral degrees from the University of Texas at Austin. He joined the MU faculty in 1978 and served as chair of the history department from 1991 to 1996. He has received the Burlington Northern Foundation Faculty Achievement Award for Significant and Meritorious Teaching and the MU Alumni Association's Faculty-Alumni Award. In 2001, the Honors College and the Kansas City Alumni Chapter named him Honors Professor of the Year.