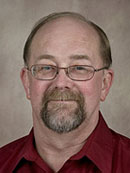 Students appreciate Meadows' perspective as a veterinarian who spent years in private practice. "Dr. Meadows introduces students to the real world of daily veterinary practice and challenges them to put theory into practice," a recent graduate says. "His down-to-earth teaching style and unyielding focus on common-sense medicine are a breath of fresh air in the sometimes heady atmosphere of the ivory tower."
Meadows has earned a reputation as a particularly dedicated teacher. "He is willing to discuss or explain any topic at length, no matter how simple it may seem, to any student at any time," says one student. "He always makes time for his students and does his best to help in any way he can." Another student describes Meadows this way: "He not only teaches students to be doctors, but he teaches doctors to be people".
Meadows earned his first bachelor's degree from West Texas State University and a second bachelor's degree and his degree in veterinary medicine from Texas A&M University. He joined the MU faculty in 1999 and has received the College of Veterinary Medicine's Carl J. Norden Distinguished Teaching Award; the college's Aesculapius Teaching Award, voted on by students; and the Gold Chalk Award from the Professional Graduate Council. Meadows has taken advantage of funding opportunities for technology and facilities in the veterinary hospital. He recently received a major award for a new veterinary dentistry laboratory to train students and licensed veterinarians to treat dental disease in dogs and cats.