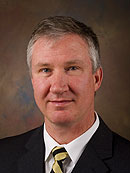 Kyle Gibson, who joined the MU faculty in 1997, is known for his skill in communicating difficult concepts.
Gibson teaches orthopedic physical therapy in the MU School of Health Professions and serves both as the director of curriculum and instruction for the Physical Therapy Department and as an adviser for students in the professional phase of the program.
"As an instructor, Dr. Gibson is always concerned with his students' learning," said Molly Winkelmeyer, a former student. "He often asks, 'Did that make sense?' and follows up with another way to explain the topic. He appreciates the spectrum of learning styles and abilities of the students he instructs and is always ready with a visual example, a different explanation, hand motions or a reference in a textbook."
Always an innovator, Gibson has developed a novel approach to the admissions interview process. He also co-authored the new doctor of physical therapy class.
In the classroom, Gibson strives to make sure every student understands the material. He's known for creative lectures and groundbreaking teaching approaches.
"Year after year, students give him the highest evaluations of any teacher in physical therapy," said Marion Minor, chair and professor in the Department of Physical Therapy. "For his own classes, he spends a great deal of time developing innovative methods to teach challenging concepts and encourages students to offer their ideas for teaching tools. In the classroom, he sets a relaxed tone, uses humor effectively and matches material with expectations in the most satisfying ways."
"Dr. Gibson is highly admired as a teacher, mentor and role model by students, graduates and peers," said Richard Oliver, dean of the MU School of Health Professions. "I think those who are master teachers have a special gift that cannot be acquired regardless of how many workshops one might attend. Dr. Gibson has that special gift, and we are blessed to have him as a member of the MU faculty sharing his gifts with our students, faculty and practitioners."
Gibson earned a bachelor's degree at Northern Illinois University and a master's degree and doctorate at MU.