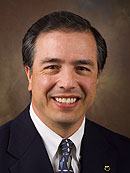 Since joining the MU faculty in 2002, Torres has worked to improve the quality of K-12 education by preparing both the next generation of high school teachers and those who will teach them.
Working in the College of Agriculture, Food and Natural Resources, Torres has taught courses in the Department of Agricultural Education and has served as director of undergraduate studies. He is the current director of graduate studies.
Known to many as a true "teacher's teacher," Torres challenges students with his creative learning materials.
"He inspires students as an educator with the enthusiasm, creativity and passion he exhibits on a daily basis," said Rebecca Lawyer, an MU graduate student. "Whether he is teaching a lesson on leadership theory, teaching methods or correlation research, Dr. Torres does all he can to engage students, motivate them to learn and inspire them to do more."
Along with the Kemper, Torres has earned the Outstanding Agricultural Educator Award, the Outstanding Advising Award, the Wakonse Fellowship and the Distinguished Teaching Award.
"Dr. Torres sets high expectations," said Thomas Payne, vice chancellor and dean of CAFNR. "He conveys his objectives for each lesson and continually checks for student understanding. He provides one-on-one instruction and is always available for students both in and out of the classroom."
Torres earned a Ph.D. in agricultural education from Ohio State University. His research areas include teacher education and determining and enhancing learning styles and cognitive abilities. His teaching areas include team and organizational leadership; research methods; and data collection and interpretation.