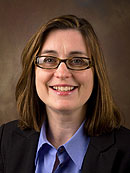 Mary Beth Marrs, who began working at MU in 2000, is committed to giving students real-life experiences.
Marrs teaches courses in operations management and topics in management in the Robert J. Trulaske Sr. College of Business. She is faculty advisor for Alpha Kappa Psi Professional Business Fraternity, co-director for the Cornell Leadership Program, co-facilitator for a Freshmen Interest Group and faculty adviser for the College of Business Student Council.
"Professor Marrs demonstrates remarkable energy and talent as a mentor, coach, counselor and role model for students," said Thomas Dougherty, the Hibbs/Brown Chair of Business and Economics and a professor of management. "Students know that she cares about their learning and also cares about them as individual students. She has spent countless extra hours with her students, not only discussing course material, issues and problems but also discussing their careers and their lives as students at Mizzou."
Marrs's innovative approaches to teaching include using Legos to understand issues in production and operations, creating a "Jeopardy" game to help students review materials, and taking classes on field trips to observe companies' business operations.
"In the classroom, Dr. Marrs allows students to be actively involved and finds creative ways to incorporate real-world examples into the curriculum," said Leah Avila, a former student.
Her excellence in teaching earned Marrs the Kansas City College of Business Alumni Association Teacher of the Year Award, MU's Excellence in Education Award and, four times, the Faculty Member of the Year award. She also has been inducted into the Mystical Seven and received the O'Brien Excellence in Teaching Award.
"Mary Beth is one of the warmest, most personable and most caring individuals we know," said Bruce Walker, dean of the Trulaske College of Business. "There are numerous instances in which Mary Beth has exerted considerable effort to help students who were facing personal challenges. She is actively involved with students in various ways and has an 'open-door' approach to students."
Marrs earned a bachelor's degree, a master's degree and a doctorate at MU.