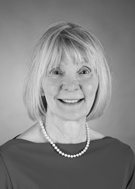 Professor of Clinical Law
MU Faculty Member since 1993
Mary Beck's teaching philosophy includes four goals for students: solving authentic client problems, advancing social justice, collaborating with other disciplines and assuming leadership roles.
Beck is both a professor of law and the director of the Family Violence Program where she began teaching in 1993. It serves Missourians in 44 rural counties who otherwise would lack legal representation. Beck's students represent clients including victims of domestic violence and families with disabled children.
"Professor Beck's students are motivated and inspired to meet the standards of excellence, professionalism, citizenship and humanity that Professor Beck sets for herself," Myers says. "She has helped change the legal fabric for all Missourians, and her teaching partnership with her students allows them, too, to contribute to this social and societal change."
Adrienne Spiller, former Family Violence Clinic student of Beck, says that Beck holds each student to a very high standard.
"She sets the standard high by leading through example, which drives the students to want to meet her expectations," Spiller says. "While her expectations of her students are high, she never puts her desire for excellence above the well-being of her students. It's rare to meet someone so knowledgeable and successful, who is even more humble and concerned with educating others on how to positively impact the world after law school."
"Professor Beck challenges, trusts, teaches, and loves her students while preparing them for the real world," said Justin Smith, law firm associate at Shook, Hardy and Bacon law firm in Kansas City and a former student of Beck. "She took an avid interest in our lives — not just about our school activities, but about our backgrounds, our families, our dreams. She desired above all for us to succeed, in law and in life."
According to Beck's students, it is her commitment not only to the clinic's students but to the clinic's clients that makes her stand apart as a professor at MU School of Law. They say she has had an immeasurable impact on students' and clients' lives.
"Professor Beck taught me the importance of actually committing myself, not only to the case, but also to the client," says Michelle Koehly, Beck's former student. "I am a firm believer that ethics cannot be 'taught' in the traditional sense. Ethics must be taught through example, and there is not a better example of the ethical practice of law than Professor Mary Beck. She embodies the very essence of the legal profession with the highest level of integrity and character."
In addition to the clinic, Beck teaches courses on family violence and public policy, adoption, assisted reproductive technologies and guardianship. Beck also is an accomplished scholar, publishing numerous articles concerning domestic violence in legal and medical journals, including the Missouri Bar Journal. She has received the Women's Law Association's Award for Outstanding Commitment to Women, among many other awards.
Beck earned a bachelor's degree in nursing and a master's degree in cardiovascular nursing from the St. Louis University School of Nursing in St. Louis. She taught for nine years at the University of Missouri School of Nursing before entering law school at MU and earning her juris doctor degree. Beck taught interdisciplinary health law courses for both nursing and law students, and supervised pediatric nursing clinical rotations.