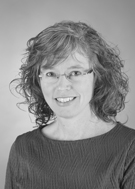 Associate Teaching Professor
College of Arts & Science
MU Faculty Member Since 2001
Sarah Bush has recognized the enduring problem of emphasizing, memorizing and regurgitating large quantities of facts and definitions within biology education. It is this problem that drives her goals of fostering critical thinking and engaging students by connecting science to their lives.
Students and colleagues regularly praise Bush as a professor who not only facilitates learning but also inspires them.
According to Bush's students, it is her welcoming personality that makes her stand out as a professor. Former student Cody McCarson said he would often visit Bush unannounced in her office and that she never failed to stop what she was doing to make time for him.
"Whenever I found myself near her building, I would interrupt her work to pester her with questions," McCarson says. "I always appreciated her dedication."
This dedication extends beyond connecting with her students on a personal level. Bush also is known as a professor who has a talent for making science relevant to all students, regardless of their majors.
Bush teaches two courses for biology majors and two general-education courses. John Walker, Curators Professor and director of the Division of Biological Science, says many students aim to leave with nothing more than their general-education science requirement fulfilled. But through creativity and use of classroom technology, Bush creates meaningful examples and applies science to students' lives. Students regularly acknowledge her for giving them a renewed interest in biology.
"It came as a great surprise to discover that after years of avoiding biology, it would become my favorite subject in college," McCarson says. "Sarah Bush made the material relevant and interesting."
"There is no doubt in my mind that she has a passion for her subject area and a passion for student learning," says Shari Freyermuth, assistant dean of academic programs in the College of Agriculture, Food and Natural Resources. "She sincerely cares about them and their learning."
Bush earned a bachelor's degree in animal behavior from Bucknell University and a doctorate in biology from the University of East Anglia in Norwich, England. She is the recipient of numerous awards, including the 2015 Ernest L. Boyer International Award for Excellence in Teaching, Learning and Technology.