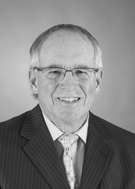 Professor of Engineering
College of Engineering
MU Faculty Member Since 1980
Robert O'Connell thinks faculty should do more in the classroom to improve student retention. O'Connell believes that by using student-centered active learning, or learning in which an emphasis is placed on student discussion and hands-on examples, he can significantly affect student retention in engineering.
"He pays extra attention to the students who struggle most," says Chi-Ren Shyu, chair of the Electrical and Computer Engineering Department. "Several successful, young alumni shared with me their stories about O'Connell's influence and how they overcame turmoil because of his advising."
Students regularly praise O'Connell for his commitment. They say his teaching style is easy to follow, he presents information clearly, and he is able to engage students without leaving any behind. To increase engagement, O'Connell connects with students outside the classroom. Through the Undergraduate Research program he involves students in his research. Through independent study, he mentors students who wish to pursue subjects not explicitly offered in the curriculum. Students say through his approach to teaching, he is able to take a personal interest in every student's learning and ensure that everyone is performing to the best of his or her abilities.
O'Connell has been involved with many university programs and initiatives. He is co-founder of the MU Faculty Workshops Committee, faculty adviser for the MU chapter of the Institute of Electrical and Electronic Engineering (IEEE) and an adviser for Eta Kappa Nu, an IEEE honor society. In addition, he established a summer study-abroad program to help students develop global knowledge and skills.
As a testament to the success of his efforts, O'Connell has earned the most teaching awards in the Electrical and Computer Engineering Department. He has won the department's Outstanding Professor Award three times since 2012 and the College of Engineering Faculty Teaching Excellence Award three times since 2006.
"Dr. O'Connell exhibits the University of Missouri pillars of excellence, respect, discovery and responsibility in his teaching and service to our students," says Miguel Ayllon, College of Engineering international outreach coordinator.
O'Connell earned a bachelor's degree from Manhattan College and a master's degree and doctorate from the University of Illinois.