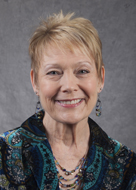 Ann Harrell is an associate professor of voice and voice area coordinator in the School of Music in the MU College of Arts and Science. She joined the faculty in 1992. Nationally renowned for her music teaching, Harrell instills her broad knowledge of music literature and teaching techniques in her students, preparing them for the variety of music they will encounter in their singing careers. Her students and colleagues say Harrell has distinguished herself through being well-versed in different areas of vocal music, through her love of teaching and through her ability to build strong relationships with her students.
"Professor Harrell, aside from being a phenomenally talented vocalist and musician, was put on this planet to teach," said Jason Forbach, an MU alumnus and former student of Harrell who has performed in numerous operas around the world. "She instilled in me, as with all of her students, the importance and necessity of research, discipline, hard work, accountability and strength. She never allowed any student to give up or feel disheartened. She was a guidepost, a confidant, a support system for young people far away from home and an unending wealth of knowledge."
Harrell's teaching philosophy is centered on the belief that helping students develop determination and perseverance is just as important as teaching them to sing. With each student, Harrell assesses personal strengths and weaknesses as vocalists, as well as confidence and self-awareness, in order to develop them into the best singers possible. She believes she must be patient and learn to discover each student as a musician and a person so that she can connect with them on a level beyond music and the classroom. Harrell not only teaches students how to mold their own strengths but also advances each student's musical knowledge to include music theory and history. She believes that if she teaches her students all aspects of music, they can truly understand the work it takes to make great art.
"I could not have asked for a more supportive and helpful mentor for the first five years of my vocal training," said Kyle Stegall, a former student of Harrell and current post-graduate student at the Yale University School of Music. "These primary years are absolutely critical for the developing voice because there is so much to learn. One must have a guide to conquer this task, and that is what Professor Harrell has been for countless students for the past 21 years. She helps individuals become self-assured leaders and musicians of utmost integrity. Professor Harrell gives her students something rare, a lens through which to see themselves and the world more clearly, as well as the necessary tools to share that perspective with others."
In addition to teaching and mentoring music students in the classroom, Harrell also helps place students in summer music programs, where they have the opportunity to learn from other teachers and conductors. She teaches a graduate-level course in vocal pedagogy, Principles of Singing, in which she can apply her current research interests and teach them to her students. Along with teaching classes, Harrell works on collaborative projects with faculty from the MU School of Medicine and the MU School of Health Professions, through which they study the positive effects of well-trained voices.
"It would be one thing if Harrell's students were simply coming away from their relationships with her as better people, but they also emerge as significantly better singers, poised for professional success," said Robert Shay, director of the MU School of Music. "Her students receive regular invitations to perform at operatic summer festivals, which often lead to professional work. In her time here, she has seen her undergraduate students go on to nearly all of the elite graduate programs in the U.S. Perhaps most notably, four of her students achieved national recognition by winning the Music Teachers National Association Young Artist Competition, including the 2014 winner, Anna Bridgman. For one teacher to produce three national winners is a truly remarkable achievement."
Harrell earned a bachelor's degree from the Oberlin College Conservatory of Music and a master's degree from the University of Texas at Austin, where she studied under Martha Deatherage.