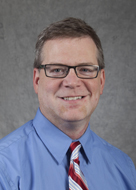 Jeff Krug has been an assistant teaching professor of physical therapy in the Department of Physical Therapy in the MU School of Health Professions since 2001. From creatively considering how to best equip students for the workplace to proactively making his educational ideas into realities, Krug focuses on providing valuable learning experiences for his students. Krug's students and colleagues say he has distinguished himself by his commitment to providing an excellent education, his application of real-life clinical experience in the classroom and his relentless hard work.
"Jeff regularly receives the highest student ratings of all professors in the physical therapy program, but his appeal as an instructor transcends the profession," said Kyle Gibson, associate teaching professor and chair of the MU Department of Physical Therapy. "Jeff teaches multidisciplinary coursework in the first year of both the occupational and physical therapy programs. He works hard to make his content relevant to both professions and is so successful that he is often asked to be an honors convocation member for both occupational and physical therapy students, which is a very difficult feat."
Colleagues and students alike regard Krug's establishment of PhysZOU, a pro bono physical therapy clinic, as his most important accomplishment as a teacher.
PhysZOU grew out of Krug's commitment to continued care for one-time patients who would visit his lab. As Krug's client base grew, he began allowing interested student volunteers to assist him. When it became apparent that these student volunteers were greatly improving in the classroom, Krug spearheaded the establishment of a clinic and incorporated student clinical rotations into the department's curriculum. Students from all stages in the curriculum cycle through PhysZOU, paired with expert clinicians and students of different experience levels along the way. The student pairing system — developed by Krug — allows students to learn and teach at the same time, which reinforces their own learning experiences. More than 2,000 uninsured patients are expected to visit the PhysZOU clinic in 2014.
"PhysZOU provides a platform for learning that revolutionizes our curriculum," said Rachel Drennan, a doctoral student in physical therapy. "While seeing a patient with Professor Krug, I was able to fully understand a neurological phenomenon that he had explained in class. He demonstrated the treatment on the patient, which allowed me to experience in person what had previously been an abstract concept."
Krug says that establishing trust, fostering engagement, and focusing on life-long and experiential learning are the four cornerstones of his teaching strategy.
"Jeff was, hands down, my favorite instructor during my three years in the program and the mentor who has most influenced my physical therapy practice," said Lindsay Holland, a physical therapist on the brain-injury team at the Rusk Rehabilitation Center, one of the nation's largest healthcare providers specializing in inpatient rehabilitation services. "He instilled the confidence in me that I could excel in areas that were challenging. Jeff uses his clinical experiences, not just book knowledge, to prepare his students for treating neurologically impaired patients."
Besides establishing PhysZOU and restructuring physical therapy curriculum to include the clinic, Krug is the primary instructor of neurological content at the MU Department of Physical Therapy. He regularly collaborates with faculty within the department on curriculum course development, advises and mentors many students, and serves as the director of student activities. Krug regularly presents on physical therapy topics regionally and nationally with the Missouri Physical Therapy Association and the American Physical Therapy Association.
Krug earned a bachelor's degree in physical therapy from the University of Wisconsin-Madison and a master's degree in neuroscience from the MU.