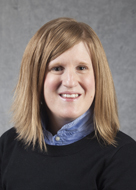 Leigh Neier has been an assistant teaching professor in the Department of Learning, Teaching and Curriculum at the MU College of Education since 2005. Neier shapes her teaching style around the belief that student wellness produces better academic outcomes and that education should take a strengths-based, character-centered approach to student learning and success.
"In many professions, one can be trained to be the best," said Kristen Berghoff, a 2013 College of Education graduate. "For teachers, a natural spark must be present to be the most effective. It cannot be taught, and it cannot be explained. Leigh has that indescribable element that makes her an exceptional educator. She makes a difference in the lives of her students as educators and people. The men and women who enter her classroom are not the same when they leave. They transform with the help of Leigh's energetic, passionate and unparalleled teaching."
Neier is known by colleagues and students for her enthusiasm, teaching style and compassion for her students in and out of the classroom.
"Leigh Neier is one faculty member who stood out to me through my undergraduate career," said another recent MU College of Education graduate. "She adapted her teaching strategies for our class of learners as needed throughout the time I was enrolled in her class. After I completed her class, Neier made sure to keep in touch to see where I was in my job search and ask about my teaching internship. Taking that extra step to connect is a characteristic that I hope my students will see in me."
Neier says she maintains a growth mindset toward teaching. A growth mindset emphasizes intelligence and skill sets that are adaptable rather than fixed, and asserts that character strengths such as resilience, grit, gratitude and empathy can and will translate into improved academic and professional performance. Neier says that this mindset is one of the most definitive parts of her educational philosophy.
Beyond the classroom, Neier serves as an undergraduate faculty academic adviser and a graduate student adviser and is the faculty sponsor for several student organizations, including the MU College of Education student council and the Kappa Delta Pi honor society. She partners with the MU athletics department to recruit future students, a partnership that resulted in being selected as the Mizzou Athletics' Honorary Volleyball Coach in 2013 and in being nominated as the 2013 Mizzou Athletics Professor of the Year. Neier also was named the 2011, 2012 and 2014 MU College of Education's Instructor of the Year.
"Without a doubt, Dr. Neier is inspirational to her students — a true educator," said Patricia Okker, interim deputy provost at the University of Missouri. "She has an excitement for teaching that is truly contagious and exudes a true passion for the teaching profession. Dr. Neier has the ability to transform her students into compassionate and caring teachers."
Neier earned a bachelor's degree in interdisciplinary studies, a master's degree in education and a doctorate in philosophy from the University of Missouri.