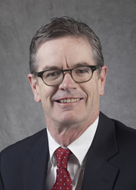 John Bennett is an associate teaching professor of marketing in the MU Trulaske College of Business. Bennett has been a full-time member of the MU faculty since 2005, and he was named the MBA program's Teacher of the Year in 2010. His students say he has an unparalleled love for teaching and brings extraordinary energy and enthusiasm to every class.
"There are no students in his classes; Professor Bennett refers to everyone as scholars," said Julie Niehaus, a former student of Bennett. "He says scholars are life learners. By referring to us in this manner, he grants us respect and creates a challenge for us to live up to our full potential, to master the information he is teaching. Being scholars gives us roles in the classroom and the responsibility as sharers of information. Professor Bennett knows that while we have much to learn from him, he too can learn from us."
Every class Bennett teaches quickly reaches full capacity. His classes are popular with marketing students as well as non-business students, such as those majoring in strategic communication in the MU School of Journalism.
"With a demanding teaching load, John consistently receives some of the very best student evaluations in the entire Trulaske College of Business," said Murali Mantrala, the Sam M. Walton Distinguished Professor of Marketing and chair of the marketing department. "He simply loves teaching, and it shows in all of his interactions with the students. John is totally committed to making his students learn as well as succeed in life."
Bennett's commitment to teaching excellence is evident in several other ways. He has taught in the college's study-abroad program, first in Korea in 2006 and then in Italy every year since. Every year since 2006, he has chaired the "Making Me Marketable" professional-development conference, which more than 120 undergraduate and MBA students attend annually. In addition, he has presented at various academic conferences and published several papers on topics such as teaching technology and the use of the Web in enhancing classroom instruction.
"I have had the pleasure to learn from Professor Bennett in the classroom as a student and outside of it as a young man," said Nicholas Droege, former president of the Missouri Students Association. "The words 'honor' and 'duty' are not just words in our alma mater to Professor Bennett; they are values that he carries out through scholarship, leadership and service to his community, his students and his peers."
In recognition of his accomplishments, Bennett has received many awards from MU and elsewhere, including the Shelter Insurance Company Teaching Excellence Award in Marketing in 2013 and the O'Brien Excellence in Teaching Award in 2012. In addition, Bennett was a Mizzou '39 recipient in 2010 and received the University of Missouri's Provost Outstanding Junior Faculty Teaching Award in 2009.