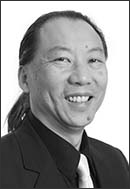 Professor of Civil & Environmental Engineering
MU Faculty Member since 2001
For the past 20 years, Professor Carlos Sun has been dedicated to inspiring his students through passion and creativity. His goal has always been to develop well-rounded graduates whose academic scholarship is matched by a commitment to serve the broader community. Sun takes great pride in his outreach efforts to provide an opportunity for both students and the public to gain insight into the work of transportation engineers.
"Through his encouragement, I and countless others became involved in civil engineering transportation research," said Kristin Hofstetter, a 2016 MU graduate who now works for McClure Engineering Co. "With this program, Dr. Sun teaches independent learning and regularly emphasizes that student researchers can make positive changes in the world; he often states the goal of our research is to save lives."
Sun has transformed the classroom environment by incorporating projects that students submit to national competitions. In his Intelligent Transportation class, Sun requires his students to submit essays to the national paper competition. In 2015, one of his students, Christopher Fitzpatrick, won the national Intelligent Transportation Society of America competition with a paper on autonomous truck platooning. Sun also requires the students in his airport engineering class to submit proposals to the Federal Aviation Administration airport design competition, where his student teams placed second and third in 2011 and 2013, respectively.
Currently Sun is working on creating the Mizzou Museum of Engineering in an effort to create a venue to showcase the prevalence and importance of engineering in smart communities and to recruit students to science, technology, engineering and math fields. In addition, Sun is collaborating with the Society of Women Engineers on a "hidden figures" exhibit to showcase contributions of African-American women in the space program.
"Great teachers go beyond imparting knowledge and technique. As mentors, they invest in the long-term future of their students," said Bimal Balakrishnan, an associate professor in architectural studies who, along with graduate students, has worked with Sun on multiple research projects over the last three years.
"Dr. Sun brings an entrepreneurial spirit to most of his projects and provides excellent experiential learning opportunities for his students," Balakrishnan said. "I have seen firsthand how he instills creative confidence in his students by encouraging them to experiment, helping them navigate failures and sharing credit for their successes."
Two of Sun's former students were Fulbright Scholars from Afghanistan. Now, Abdullah Habibzai and Shabnam Habibzai are husband and wife, and they both returned to Afghanistan after graduating with degrees in civil engineering. Abdullah currently serves as the acting mayor of Kabul, the capital of Afghanistan with a population of 6 million. His wife, Shabnam, is a transport specialist with the Asian Development Bank, operating a $4 billion portfolio in Afghanistan's transport sector. At Mizzou, they took classes with Sun in transportation legal issues, advanced intelligent transportation systems, transportation safety and transportation networks.
"Dr. Sun's personal effort in engaging every student in class discussion and seminars provided a conducive environment for critical thinking, enthusiastic debate and inclusive participation," Abdullah Habibzai said. "He is an excellent professor, a noble human being, a caring mentor and an individual who conducts himself to the highest standard of an academic environment."
Sun reminds his students to always discuss and be aware of relevant policy and legal issues affecting engineering, and some of his students were recently selected to present in front of legislators at the nation's capital in Washington, D.C.
"These experiences emphasize the fact that as civil engineers, we work on public projects, are accountable to the public and rely on public support," Sun said.
In the past, Sun has won the Outstanding Teacher in Civil Engineering award in addition to the Excellence in Education award from the vice chancellor of Student Affairs. Beyond awards, Sun said the most rewarding measure of success is the accomplishments of his students.
"Employers often emphasize to me that they desire well-rounded engineers who can manage the soft aspects of engineering in addition to technical design," Sun said. "I recall one email from a student who was in the middle of a summer internship and had just taken my legal issues class. He was amazed in seeing class issues surface in his day-to-day duties. When my students tell me how my coverage of the soft issues has helped them in their careers, it brings a smile to my face."