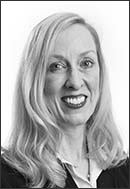 Professor of Strategic Communication
MU Faculty Member since 2003
Shelly Rodgers believes in creating a learning environment where students can feel comfortable expressing ideas and participating in their own educational experience. A decorated scholar and accomplished researcher, she is adept not just in the field of strategic communications, but in her ability to share her knowledge and years of experience with those she teaches. Rodgers is consistently dedicated to finding new ways to engage students while also furthering the field of strategic communication.
David Kurpius, dean of the Missouri School of Journalism, said Rodgers has excelled in every situation in which she has taught—undergraduate, graduate and online—not to mention her mentoring and educational work outside of the classroom.
"It is impossible to quantify the hours she spends throughout the year interacting with students to help them succeed," Kurpius said. "In her work, she has consistently demonstrated a commitment to innovation and a willingness to change with the times to ensure students gain the greatest possible value from her teaching. She created nine classes during her career, including her pioneering course in interactive advertising, which was one of the first in the country."
Rodgers' dedication to helping students achieve their best comes in part from her own difficult upbringing. Growing up with no running water or electricity, her family of eight lived well below the poverty line. Because of her background, Rodgers approaches any interaction she has with students, particularly those from diverse backgrounds, with compassion, empathy and patience.
Manu Bhandari, an assistant professor at the University of Arkansas, has experienced this firsthand. He was assigned as a teaching assistant for Rodgers' interactive advertising course when he was a Mizzou doctoral candidate in 2013. As an international student, Bhandari took some time to grasp the nuances of American culture, but Rodgers' patience with him never wavered.
"Dr. Rodgers has played the biggest role in my development as a teacher and mentor," Bhandari said. "She has a rationale for every choice she makes. She operates from a position of empowerment and gives her students the tools, skills and knowledge needed to perform well in her classroom and beyond."
Margaret Duffy, executive director of the Novak Leadership Institute, views Rodgers as a representation of everything good about college teaching.
"Shelly's teaching excellence goes beyond her thoughtful and meticulous course structures, the depth and breadth of course content and her creative teaching methodologies," Duffy said. "For me, what stands out is her kindness and patience. I've observed her interacting with scores of students and every single student receives her complete attention. The best students shine even brighter under her tutelage. Even more telling is the fact that many who struggle achieve far more than they ever imagined they could, often becoming some of the best students."
Alicia K. White is an undergraduate student studying strategic communications at the Missouri School of Journalism. She has encountered numerous professors of talent, intellect and mastery throughout her time at the school but none quite like Rodgers. White will soon be attending graduate school, a decision she made in large part because of the guidance and encouragement she received from Rodgers.
"Although the University of Missouri is saturated with outstanding professors, Dr. Rodgers shines among the masses," White said. "It is rare to find a professor who radiates a genuine interest in the success of their students such as she does. I cannot stress enough the level of encouragement that Dr. Rodgers provided to me. Her ingenuity for divulging students into the world of research is unparalleled."
Besides her role as a mentor, Rodgers has contributed indispensable research and knowledge to the field of strategic communications, particularly in the areas of science and health. Some of her achievements include leading an effort to train nearly 100 science, technology, engineering and math graduate students to present their research interests and activities to public audiences more effectively, being an early advocate and educator on interactive advertising and co-authoring 152 manuscripts accepted to conferences and peer-reviewed journals.
Rodgers earned a bachelor of science degree in business administration from Union College in Lincoln Nebraska. For her master's in communication and journalism, she attended the University of California, Davis and the University of Arizona respectively. Rodgers earned her doctoral degree from the University of Missouri. She serves in several leadership roles, including the advisory board for the Dalton Cardiovascular Center for Research and the Health Communications Research Center. She also serves on the editorial boards for the journals Interactive Advertising, Advertising, Applied Communication Research, Advertising Education and Current Issues and Research in Advertising.