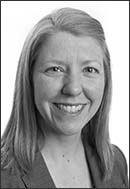 Assistant Professor of Religious Studies
MU Faculty Member since 2012
Carrie E. Duncan aims to help students "better understand why they believe the things they do." As a professor in the Department of Religious Studies, Duncan has taught thought-provoking courses on topics such as the Hebrew Bible, the New Testament, and literature and history of Ancient Egypt. She hopes students gain from her classes a realization that beliefs and attitudes are influenced by history and culture. Duncan accomplishes this goal through readings, evidence-based debates, mock trials and small group discussions.
When she was still new to MU, Duncan appeared as a guest lecturer in 2013 for the Humanities Sequence offered by the Honors College. Her presentation on the Gospel of Mark instantly garnered the respect of faculty, staff and students. She has since been asked to return as a lecturer and discussion section teacher and has served on the final exam committee for related courses.
Duncan oftentimes incorporates images from pop culture as a way to relate to students in explaining course concepts. For example, students might encounter a Betty White spoof of singer Miley Cyrus' "Wrecking Ball" music video to help convey the importance of "frames of references."
"This strategy is typical of Carrie's teaching style," said Rachel Harper, associate director of the MU Honors College. "She meets the students where they are without talking down to them or lowering her expectations for serious engagement."
Duncan is a tough but popular teacher. She enforces strict attendance policies and requires students to participate in class discussions, even in larger lecture halls. Not only does she encourage students to push beyond many of their perceived familiarities with specific texts and dig deeper, she also empowers them to realize and reach their academic potential.
Duncan served as a mentor to Daniel Tallent while he was completing his second master's degree. When she took sabbatical to focus on writing a book during the 2015-2016 school year, Duncan did not think twice about asking Tallent to teach a course in her stead.
"I was unsure whether I would be able to teach the class successfully given all my other academic obligations," Tallent said. "Dr. Duncan didn't give up on me. She met with me after my initial refusal to express her confidence in my abilities and remind me what a valuable opportunity it was to teach these classes at a major university like MU."
From this conversation, Tallent agreed to teach and said it has been one of the most rewarding experiences of his educational career.
Duncan has a positive impact on students' experiences both inside and outside the classroom, including on-site archaeological digs in collaboration with the University of Tennessee-Knoxville. Erin Darby, co-director of the "Ayn Gharandal Archaeological Project," has been impressed by Duncan's commitment to field education.
"Carrie has invested time and energy in students from over 15 different academic institutions, ranging all over North America, just through 'Ayn Gharandal' alone," Darby said. "She has led students on field trips throughout Jordan and trained them in archaeological excavation and recording."
Duncan earned her bachelor of arts degree in archaeology from Tufts University; a master's of arts in near eastern languages and civilizations from Harvard University; and master's of arts and doctoral degrees in religious studies from the University of North Carolina at Chapel Hill. She also provides public education for programs like Saturday Morning Science, the Archaeological Institute of America and the MU Retirees Association.