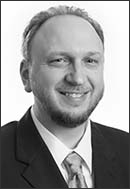 Associate Professor of Biological Sciences
MU Faculty Member since 2005
According to David Schulz, the single most important quality a teacher can possess is enthusiasm for their craft. That's the first of five fundamental principles that make up Schulz's teaching philosophy. In addition, he believes in never underestimating his students; always showing them respect; being honest about his shortcomings; and, finally, having a sense of humor and humility. For Schulz, these principles are what makes him such an effective instructor. His students clearly agree.
Carrie Davis took Biological Science 1500, a high-enrollment, auditorium-style course that is notoriously difficult, with Schulz when she was a freshman.
"Dr. Schulz respected each student's potential as a burgeoning scientist and took his role in our education seriously," Davis said. "He was not there to drill the minute details of biological processes that would be required of us in later courses. Rather, he led us to develop a deep understanding of the principles of biology and the beauty of living systems. He asked stimulating questions, and his engagement with us made our class of hundreds of people seem small."
Despite teaching many students, Schulz consistently earns very high scores on his student evaluations that highlight his ability to shrink a presentation for 300 people down to a conversation.
Clare Diester, currently a graduate student at Virginia Commonwealth University, is a former student who spent the first two years of her undergraduate career assisting Schulz in his research lab. Under his direction, she worked her way up to performing dissections and analyses. Diester attributes much of her success in the field of biology to her time working with Schulz.
"Dr. Schulz possesses a gift for teaching unlike any professor I've ever had," Diester said. "It was in this class that I learned an unforgettable lesson: Simply because the subject is easy to grasp, it does not mean that one cannot learn from it. For the first time, Dr. Schulz had me innately questioning the fundamental concepts of biology in aspects I had never considered. It was in this class I began to develop my ability to break down concepts to their basics, build from my existing knowledge and cultivate answers. I was learning to think like a scientist."
It's not just Schulz's students who recognize his gift for relaying tough concepts to large groups of students in a way that is both easy to understand and interesting. Bethany Stone was a 2011 recipient of the Kemper Fellowship and teaches alongside Schulz in the Division of Biological Sciences. As a two-time nominee for the U.S. Professor of the Year Award, Stone is an excellent professor in her own right. Yet, she describes watching Schulz in his large lecture courses as a "humbling experience."
"I learned how to be a better instructor by observing his techniques," Stone said. "He was able to employ the Socratic method of teaching successfully in a large lecture setting, which many consider to be very difficult—or even impossible. I was struck by the diversity of students involved—students from all over the auditorium both asked and answered questions. Everyone was engaged, even in the far back of the room."
David Braun, a fellow professor of biology at Mizzou, saw Schulz teach a cellular biology lecture that he normally doesn't cover. Schulz had volunteered to teach the class due to the unforeseen and sudden departure of the professor originally scheduled to teach the course.
"The lecture progressed smoothly, and I was thinking that Dr. Schulz was doing a very good job," Braun said. "Then he did something that blew me away: He wrote a very difficult equation on the board that I thought was more suited to advanced courses and might scare students away. He had the students work their way through it, step by step, until they fully understood what each term meant. I was surprised to see the students being able to understand this very difficult concept. I was highly impressed by Dr. Schulz's ability to clearly explain it in an easy-going, non-challenging manner and get the students to learn materials in an almost accidental way—although it was actually carefully choreographed and beautifully executed."
Schulz has been recognized for his achievements as an educator on a national level by his recent invitation to join the faculty of the premier Neural Systems and Behavior course at the Marine Biology Lab in Woods Hole, Massachusetts. In addition, he also serves as an elected member on two of the most important and demanding departmental committees, the Divisional Council and the Personnel Committee. Schulz earned his bachelor's degree in biology, along with a master's and doctorate in entomology, from the University of Illinois at Urbana-Champaign.