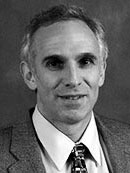 For more than two decades, Charles Borduin has served as professor of psychological sciences at MU. In classes ranging from large lectures to small graduate seminars, students and faculty alike are unwavering in their praise of his ability to create a love of psychology in students who emulate his own passion.
Former students attest that Borduin's enthusiasm for psychology sparked a desire to follow in his footsteps. One former student noted, "Dr. Borduin is an outstanding psychologist and teacher who greatly influenced my professional development; I seek to emulate his many fine qualities in my own career." In addition to high praise from students, faculty note that Borduin is unfailing in his efforts to counsel doctoral students, a time-consuming and intensive process.
Borduin received his bachelor's degree from Calvin College and his master's and doctorate degrees from the University of Memphis. In addition, Borduin currently serves as the director of the Missouri Delinquency Project, which trains graduate students to deliver mental health services to youths and families in the community.