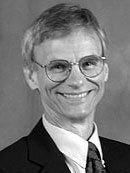 For more than two decades, Stephen Pallardy has been a forestry professor at MU. Students and colleagues alike say that no other professor better exemplifies what it means to be truly dedicated to learning and teaching.
Demonstrating his commitment to students, Pallardy has implemented several tactics to ensure that his undergraduate and graduate students are learning. He has created a Web site for his classes, takes his students on field trips, and aids graduate students in their research efforts. Colleagues hold Pallardy in the highest esteem. They mention that he has co-authored several works that are considered the best textbooks in the field. Forestry experts regard Pallardy as a "world-class researcher."
Pallardy received his bachelor's and master's degrees from the University of Illinois-Urbana-Champaign and his doctorate degree at the University of Wisconsin-Madison. He has published three textbooks and has received numerous accolades for his teaching, including the Outstanding Teacher Award and Graduate Teaching Award.