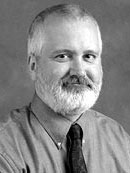 Since 1993, Thomas Crowe has made an impact on the lives of his students at MU. Students and colleagues describe him as a scholar with a passionate commitment to his field. Crowe's quest for learning does not stop when he leaves the classroom.
To effectively reach his students, Crowe maintains his knowledge of current research in the field and focuses on student learning and development. His efforts have had a positive impact, as he consistently receives high evaluation marks from students and has won at least one teaching award each year since he has been at the College of Engineering.
Crowe earned his bachelor's and master's degrees at The Pennsylvania State University and his doctoral degree at Arizona State University. In addition to his duties at MU, Crowe also serves as an independent engineering consultant for more than 30 companies around the nation.