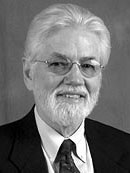 Don Ranly has been a member of the MU faculty for 30 years and head of the magazine sequence since 1976. During this time, he has been dedicated to molding college students into ethical, thoughtful, skilled professional journalists. His students rave about his enthusiasm and engaging lectures, and note that the best thing about his classes is the teacher himself. One student observed, "Just having Dr. Ranly teaching gives the class strength. He's excellent."
Besides student accolades, Ranly has received a number of professional honors, including the Golden Chalk Award in 1998 and a 1995 Faculty Award. He also is the O.O. McIntyre Distinguished Professor of Journalism, an honor he earned in 1995.
Ranly received his bachelor of philosophy at the University of Dayton and his master's degrees in speech and journalism at Marquette University. He earned his doctorate of journalism at MU.
Ranly's love of his job and dedication to his students are exemplary. Dean Mills, dean of the journalism school wrote, "Ranly is the kind of teacher whom administrators would like to be able to clone. The integrity, passion and intelligence he brings to his job as a teacher does honor to our profession."