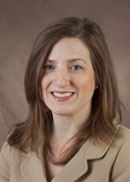 Deborah Hanuscin, an associate professor of physics and education since 2004, believes in the principle of learning not only for school but also for life. She teaches science as something students should experience in everyday life. Hanuscin instructs future educators in how to teach science, a subject many pupils fear prior to taking her course.
"Dr. Hanuscin challenges us to step outside of our comfort zones," says Haley Woods, a former student. "She encourages us to take part in new experiences and opportunities that push our boundaries and stimulate our professional development."
As part of that mission, Hanuscin serves as an adviser to the MU chapter of the National Science Teachers Association. She has helped students organize community outreach events and increase membership.
Hanuscin has received several campus teaching awards, including the College of Education's Outstanding Undergraduate Instructor of the Year and the Provost's Outstanding Junior Faculty Teaching Award. From 2005 to 2007 Hanuscin received the "High Flyer" award from the College of Education for outstanding course evaluation scores.
"She is indeed an outstanding educator in a field where there is a great need for outstanding teachers," says Daniel Clay, dean of the College of Education. "Without a doubt, the youth of the future will benefit greatly from the impact she is having on our future educators."
Hanuscin holds a bachelor's degree from Florida State University. She earned a master's degree and doctorate from Indiana University.