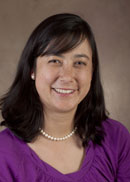 Elizabeth Chang, an assistant professor in the Department of English since 2004, has a gift for asking questions that drive discussion and analytical thinking. She teaches undergraduate- and graduate-level courses in Victorian literature and other topics.
"I have never had a teacher phrase questions like Dr. Chang," former student Kathryn Wilke says. "She asks her students to view the larger issues and how they affect society, gender or other topics."
Chang encourages students not only to read Victorian literature but also to imagine themselves living in the time during which the text was written. To understand the time period, she presents images of Victorian England and takes students to Ellis Library to flip through period magazines. She says this gives students a chance to have a truly lasting experience that could not be achieved by looking at images in a presentation.
"Professor Chang has created a good environment for learning," says William Kerwin, associate professor of English. "Students clearly trust her enough to say what they really think, and she and they work collaboratively as they work through the discussion."
Chang has taught 15 different courses in nine semesters, far more than expected. In 2007, Chang gave the presentation "How to Lead an Effective Discussion" to graduate teaching assistants on at the University of Missouri College Teaching Seminar. She has served as an adviser for 11 doctoral students, three master's students and three undergraduates.
Chang earned a bachelor's degree from Yale University and a doctorate from the University of California at Berkeley.