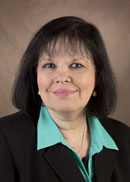 Etti Naveh-Benjamin has taught cross-cultural psychology and Israeli culture courses at MU since 2002. She believes in teaching students by inspiring them to be active and immersed in their education.
"Etti is very enthusiastic about the material she is teaching and her enthusiasm makes students want to learn," says Alan Strathman, director of undergraduate studies in the Department of Psychological Sciences. "She is the kind of teacher who has a tremendous impact on her students' lives."
Naveh-Benjamin has served as the director of the Multicultural Certificate Program since 2008. She advises students selecting multicultural and diversity courses to complement their backgrounds, interests and disciplines. Naveh-Benjamin has kept in touch with more than 100 former students, who feel they can go to her for advice about any personal or professional conundrum. Many students say Naveh-Benjamin's teaching changed the way they view the world.
"Etti's classroom is a portal, a space through which students travel as the semester progresses, emerging as entirely new people with open minds, expanded horizons and an unquenchable thirst for new ideas and understanding," says Jessica Ekhoff, an MU alumna and current law student at the University of Chicago.
Naveh-Benjamin has received several teaching awards, including the Purple Chalk Award from the College of Arts and Science and the Catalyst Award for excellence in teaching and contributing to diversity at MU.
Naveh-Benjamin earned a bachelor's degree and a master's degree from Eastern Michigan University.