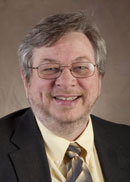 Mike McKean has been an integral part of the MU School of Journalism faculty since 1986. As the media landscape has changed, McKean's teaching philosophy has not. McKean believes in giving his students as much time and attention as possible and that students learn through experience.
In 2005, McKean created the Convergence Journalism Emphasis Area in the School of Journalism. Students who enroll in convergence journalism gain skills working with multiple types of media, including radio, the Internet and television. Currently McKean teaches the convergence journalism capstone course. He has advised more than 75 teams of seniors as they develop multimedia projects.
McKean generates real-world, high-profile opportunities for students. He has created competitions in which students design applications for industry-leading corporate partners, such as Apple, Adobe, Google and the Hearst Corporation. He pushes students to succeed and play a part in the transformation of media.
McKean has received several teaching awards, including the MU Faculty-Alumni Award and the MU Innovator Award for Advanced Teaching with Technology.
"To get to know Mike is to learn about his endless devotion to the growth of the students in his classes and growth of his industry through real-world applications," says Tony Brown, a member of the team that won the first iPhone mobile application contest. "He is a kind, passionate, brave and boundless educator with the ability to painlessly prod students toward their best work."
McKean earned a bachelor's degree from the University of Missouri and a master's degree in political science from Rice University.