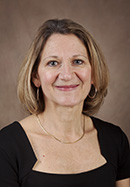 Ines Segert is the associate director of the MU Honors College and has been a faculty member in the MU Department of Psychological Sciences since 1990. She has taught and advised thousands of undergraduates, mentored graduate students and worked tirelessly with other faculty to improve education at MU. Her classes, which range from seminars of 20 students to lectures of nearly 500, examine complex and controversial topics and give students the tools they need to become informed citizens. Her students and fellow faculty members say she is an avid reader and makes sure her students are familiar with the latest developments in the fields of psychology and neuroscience. A lifelong learner, she leads by example.
Segert extends learning beyond the traditional classroom structure, organizing field trips, inviting guest speakers and tying classwork to current events.
"Dr. Segert is a woman of detail, which also makes her an exemplary teacher," said Nancy West, a professor of English and director of the MU Honors College. "Even in a class of 500 students, she manages to learn all of her students' names in a few weeks."
Through the course of her career, Segert has influenced students with her personal approach. She uses a range of strategies to teach her classes, depending on their size. In smaller classes, Segert builds individual relationships with students by using examples relevant to each individual. In her larger classes, she makes a personal connection with every student by getting to know them and handing out candy before exams. Segert often uses examples from her personal life to illustrate her own struggles with reconciling modern psychology to simple human nature.
"Dr. Segert has restored my confidence in the education system." Evan Townsend, a former student, said. "She is an expert in education, but also an expert of teaching and of learning, of speaking and of listening. She is an expert on students."
Segert earned bachelor's degrees in psychology and English from Rutgers University and earned master's and doctoral degrees in psychology and neuroscience from Princeton University.