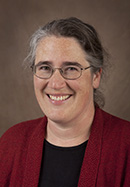 Joanna Hearne, an assistant professor of English and film studies, is a much-admired film scholar, earning a multitude of research awards and film grants.
As a teacher, she inspires her students.
Hearne lures distinguished speakers to her lectures and intertwines spring classes with the True/False Film Fest, an internationally recognized documentary film festival held annually in Columbia. She challenges her graduate students to explore ideas and think creatively.
Her celebrated teaching method and contagious enthusiasm reenergize associates and inspire students. "She is, simply put, the most knowledgeable and engaged teacher I have ever had," former student Justin Shanitkvich says.
Hearne's 15 graduate and undergraduate courses span multiple film genres — from documentary film history to early cinema to animation to Westerns. Her recent books, Native Recognition: Indigenous Cinema and the Western and Smoke Signals and the Emergence of Native American Cinema, highlight her expertise Native American film.
"Dr. Hearne tempers theory with humanity," Willow Mullins, a former student, says. "While she challenges her students to understand and synthesize the nuances of theory, she also insists that they see the very real and lived effects of those ideas."
Her main goal is to teach "media literacy." "At the most basic level, I think of teaching as an activity that makes visible the connections between our screens, our minds and our world," Hearne says.
Hearne earned a bachelor's degree from Oberlin College and a doctorate from the University of Arizona.