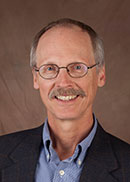 Paul Crabb has been a professor and the director of choral activities for the MU School of Music since 2003. He teaches music. He conducts ensembles. He also inspires his students. They list excellence, humility and caring among the characteristics that define him as an educator. His colleagues speak of his devotion to continued learning, appreciation of interdisciplinary inspiration and attention to detail.
Crabb's work sings for itself. MU's University Singers is regarded as one of the nation's top university choral ensembles. In 2011, Crabb led the group to perform at the White House, as part of the President's annual series of holiday tours, and in Chicago, at the national convention of the American Choral Directors Association. Crabb also conducts MU singers, Summer Singers and the 150-member community group Choral Union.
Crabb has conducted 33 international and national performances during the past five years and has led students to a host of awards. He's earned a few honors of his own, as well, including the CASE/Carnegie Missouri Professor of the Year in 1999.
His published research spans more than two decades.
Describing him as a personable role model, inspirational truth-seeker and thoughtful leader, former student Kaitlin Foley says Crabb fulfills the definition of teacher. "He has taught me to be excellent in everything I do," says Kaitlin Foley, an elementary music teacher and Crabb's current chorister, "and I am eternally grateful."
Crabb earned a bachelor's degree from Bethel College and a doctorate from Florida State University.