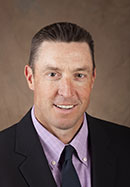 Whether he is in an auditorium facing hundreds of university students, on a playground leading a class of fourth-graders, at a senior center working with the elderly or at an elementary school training teachers, Stephen Ball says, he is "teaching for Mizzou."
An MU professor since 2002, Ball teaches Introduction to Exercise and Fitness, in which nearly 750 students enroll every year.
An avid exercise advocate and nutritionist, Ball encourages students to build activity into their lives by designing personal fitness plans and completing four-week activity logs.
"Your class constantly reminded me of the importance of health and fitness, and your enthusiasm as a teacher kept me motivated to not give in or give up," a former student writes.
Ball's instruction extends beyond the MU campus. As a nutritional science extension unit leader, he carries the classroom into the community. Traveling around the state, Ball teaches Missourians how to be more active and trains public-schools personnel in helping to increase students' physical activity levels.
Several fitness programs Ball has developed have gained worldwide recognition and have been adopted by schools and health agencies throughout the United States. Ball created a series of exercise videos called Fitness and Wellness for a Lifetime, which provide basic information aimed at the everyday consumer. He also created "MyActivity Pyramid for Kids," which helps children develop exercise habits; the program currently is used in 46 states.
Ball earned a bachelor's degree in biological sciences at MU in 1994 and a master's degree in exercise physiology at MU in 1997. In 2002, he earned a doctorate in curriculum and instruction from Arizona State University.