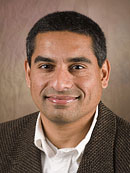 In a decade at MU, Anand Chandrasekhar has developed a reputation for excellence in teaching, advising and research. At the graduate level, Chandrasekhar teaches developmental genetics, a course that he created. He also team-teaches neuroscience and a molecular biology but is best known for his skill in teaching cell biology, a course that's considered a cornerstone of the department's undergraduate core curriculum.
"For many of our students it is the hardest part of the core, and for many of our faculty it has been the hardest course to teach," said John David, director of the Division of Biological Sciences. "Anand's performance in cell biology has, in marked contrast, been spectacular, whether measured by scores on student evaluations, by written comments or by peer evaluations."
"Dr. Chandrasekhar is a one-of-a-kind teacher," one former student said. "His genuine care and outstanding teaching qualities continue to amaze me on a daily basis."
Chandrasekhar engages students through critical thinking and visual stimulation. He strives to make lectures enjoyable by including humor and appropriate "down time."
"One of Dr. Chandrasekhar's most wonderful characteristics is that he sees a potential greatness in all of his students, and he empowers them to fulfill their aspirations," said Neesann Puangsuvan, a former student of Chandrasekhar who now is in medical school.
Chandrasekhar earned a bachelor's degree and a master's degree at the Birla Institute of Technology and Science in Pilani, India, and earned a doctorate at the University of Iowa.