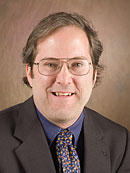 Wayne Brekhus has been a member of the MU faculty since 1999, teaching both graduate and undergraduate sociology courses. For the past four years, Brekhus has been a co-facilitator for a Culture and Society Learning Community. He also serves as the director of undergraduate studies for the Department of Sociology and advises more than 200 sociology majors.
"I have never met such a commanding figure who genuinely cares about his students and their successes as much as Dr. Brekhus does, nor one who teaches so brilliantly," said Lauren Sanborn, an MU junior.
In 2007, Brekhus was named a Wakonse Fellow, and in 2005, he was awarded the Excellence in Education Award at MU. In 2002, he was honored with a Purple Chalk Teaching Award by the College of Arts and Science, an award that students present to professors each year during Arts and Science Week.
Brekhus's colleagues and students describe him as personable and dedicated to his work.
"Wayne has been an important source of support and inspiration for me in my teaching," said Joan Hermsen, an associate professor of sociology. "When I am struggling with a student or a subject and just need someone to hear me out, he listens."
Brekhus earned a bachelor's degree at North Dakota State University and a master's and doctorate at Rutgers University. Before coming to MU, he was an assistant instructor of sociology at Rutgers.