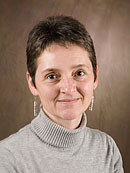 Dorina Kosztin, who began working at MU in 2001, is committed to helping students succeed by instructing them in the most clear, relevant way possible. She serves as a professor and the director of undergraduate studies in the Department of Physics. In 2004 she started the Physics Department Open House.
Currently, Kosztin is working with Professor Meera Chandrasekhar to begin the "A-TIME for Physics-First Program," an effort that will incorporate physics into Missouri's ninth-grade curriculum.
"Dr. Kosztin has made broad and important contributions to the teaching of physics in our department because of her outstanding skill as an educator and because of her dedication to education," said Paul Miceli, professor of physics.
When joined the MU faculty, Kosztin taught the calculus-based introductory physics sequence, two classes with a reputation for being difficult. She transformed the courses by incorporating technology, introducing new demonstrations and offering help sessions.
"Dorina is a very dedicated teacher. She addresses us like we are her kids, and she makes sure we understand the concepts," one former student said. "I can say that I actually learned in this class, and I am able to apply my knowledge to my everyday life."
Her excellence in teaching earned her the Provost Junior Faculty Teaching Award in 2005 and the Student-Athlete Advisory Council Most Inspiring Professor Award in 2006.
"Dorina is a valued member of our department," Chandrasekhar said. "As an individual teacher she is remarkable. She is much more than just an impressive teacher; she is a climate changer. Above and beyond course innovations, Dorina has stood out in students' eyes as a person who cares about students in a multitude of ways."
Kosztin earned a bachelor's degree at Babeş Bolyai University in Cluj, Romania, and both a master's degree and a doctorate at the University of Illinois at Urbana-Champaign.