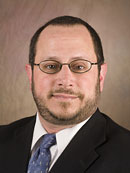 In the 10 years that Tony Lupo has worked at the University of Missouri, he has maintained a high level of involvement in teaching and research. Lupo, an associate professor of soil, environmental and atmospheric sciences, has directed 32 undergraduate research projects, created the Storm Chase Club and developed three new courses. He also teaches four to six courses each year.
Lupo's work has gained recognition far beyond MU. In 2007, Lupo contributed work to the Intergovernmental Panel on Climate Change that received the 2007 Nobel Peace Prize along with former Vice President Al Gore.
"Dr. Lupo is an exceptional teacher who is known both for his enthusiasm and for his ability to teach complex principles in an understandable manner," said Paul Vaughn, associate dean and director of the College of Agriculture, Food and Natural Resources. "Dr. Lupo has been described as a tireless teacher, an individual whose passion for the science of meteorology is such that his students simply cannot keep from sharing his enthusiasm."
In 2006, Lupo was honored with the CAFNR Senior Level Teaching Award and, in 2005, he won the Teaching Award of Merit from the MU Chapter of Gamma Sigma Delta.
Lupo is enthusiastic and passionate about what he teaches and is highly praised by his students for being helpful and personable.
"In many respects, Dr. Lupo is like a member of my family," said Justin Glisan, a graduate student for whom Lupo was an adviser for six years. "This type of relationship augmented my academic career and helped make me the person I am today."
Lupo earned an associate's degree at Cayuga County Community College, a bachelor's degree at State University of New York and a master's and a doctorate at Purdue University.