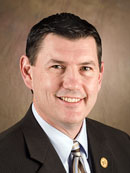 Robert Terry, who joined the MU faculty in 2002, is known for his clear, organized and interactive teaching methods. During his time at MU, Terry has taught a variety of agricultural-education courses and has served as both an undergraduate student adviser and a mentor for graduate students.
"While working side by side with Dr. Terry as a graduate student, I was always impressed at his yearning to continue to perfect his trade," said Shane Robinson, an assistant professor at Oklahoma State University (OSU) and Terry's former student. "I quickly learned of his sincere desire to be the best teacher he could possibly be."
In 2005, Terry received the Outstanding Teacher Award from the College of Agriculture, Food and Natural Resources, and in 2006 he was named an Outstanding Agricultural Educator by the North Central Region of the American Association for Agricultural Education. He also received the Interfraternity Council and Panhellenic Association Outstanding Faculty Member Award in 2003.
"Dr. Terry is an outstanding teacher and human being," a former student wrote in a class evaluation. "No matter how down I felt on a given day, Dr. Terry had a way of making everything seem brighter."
Erin E. Sappington, a senior agricultural-education major, said "Dr. Terry exhibits more enthusiasm and commitment to teaching than any other professor I've studied under at MU. His knowledge and passion for the subject matter and the success of his students is evident in class every day."
Terry earned a bachelor's degree and a master's degree at OSU and a doctorate at Texas A&M University. He has taught at Texas A&M, California Polytechnic State University and OSU.