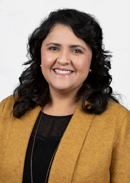 Angie Zapata has served the University of Missouri as a teacher, advisor, mentor and supervisor. As an associate professor of learning, teaching and curriculum for social transformation in the MU College of Education, she has taught undergraduate literacy courses for preservice elementary school teachers. Her excellence in teaching is demonstrated by her end-of-course student evaluations, in which she has constantly received overall ratings of 4.9 or higher on a 5-point scale.
"Dr. Zapata tactfully and effectively engages future teachers in difficult dialogues about issues of equity, diversity and inclusion, and she has a reputation for working her students hard," said Candace Kuby, department chair of learning, teaching and curriculum in the MU College of Education. "She has earned the respect of her students by treating them as professionals, challenging their beliefs about teaching and learning, and supporting their transformation from student to teacher."
During her time at MU, Zapata's teaching excellence has earned her numerous awards, including the 2017 University of Missouri Provost Outstanding Junior Faculty Teaching Award, the 2018 College of Education Faculty Diversity Award, and the 2019 College of Education Graduate Advisor/Mentor of the Year.
Teresa Toarmina, a senior who took Zapata's Literacy and Assessment Development course, said Zapata created an inclusive, loving and encouraging learning environment that enriched class discussions.
"I find myself more times than necessary going to Dr. Zapata's office just to ask questions, get her opinion on some ideas I might have, or just to look through her incredible library of texts," Toarmina said. "She makes it a point to be available for me even if it is just to ask one question, and I thought that would not be possible going to such a big university. She has made me personally look at reading in a different light and has caused me to think about furthering my education in literacy. Her passion runs so deep and it is truly contagious."
Working with both faculty and administrators, Zapata has designed new initiatives and curriculum to enhance the elementary education program. Her commitment to teaching and her students is unwavering.
Lisa Flores, professor of counseling psychology in the College of Education, observed Zapata's teaching while sitting in on her class, Language, Literacy, Identity and Power. She immediately noticed Zapata's passion and energy for teaching, as well as her expertise in culture and literacy.
"She has a keen ability to create a learning environment that provides space for all learners, regardless of backgrounds, to relate to the material," Flores said. "It is clear that Dr. Zapata develops a community of learning within the classroom that promotes respect and values diverse views."
A daughter of immigrant Peruvian parents, Zapata's teaching and research focus on language and literacy development among linguistically diverse children and adolescents. She also serves as a faculty mentor for the Dorsey Scholars, undergraduate students who are from first-generation families or from underrepresented groups.
"I have been changed by the literacy-related stories of first-generation, college-bound students that emerge in class from students who have left their family farms to attend Mizzou; by the testimonies of biracial students negotiating two worlds; and by the stories of Muslim women in my courses sharing how their language and literacy practices shape their identities," Zapata said. "I have been told by Latina students that they feel affirmed to be taught by someone who looks and sounds like them, and I have been told that hearing how I integrate my own multilingualism into the course has reminded teachers to be more open to the linguistic diversity of the world."