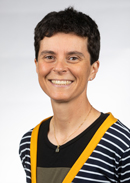 Miriam Barquero-Molina has transformed the education of geology majors at the University of Missouri since joining the Department of Geological Sciences in 2009.
As an assistant teaching professor, Barquero-Molina has turned traditional classroom courses into engaging project-based curricula that include extensive experimentation, teamwork and fieldwork — components critical for geology.
As director of Mizzou's Geology Field Program, she has redesigned a once struggling program with declining enrollment into a highly sought-after, six-week experience that fills up with registrants within a few days. The transformed Camp Branson won the GSA/Exxon Mobil Field Camp Excellence award in 2014, an honor bestowed on just one field camp in the country each year.
Among her contributions are the study abroad classes that Barquero-Molina has developed and administered since her arrival at Mizzou. She has taken undergraduates — and even some alumni and graduate students — on field-based trips to Chile (2014) and Spain (2016 and 2019).
Mian Liu, chair of the Department of Geological Sciences, said Barquero-Molina is an outstanding teacher — the best in the department.
"She has received the highest student evaluations in the department year after year for all courses she taught, from general education auditorium classes to small field-based classes for seniors and graduates," Liu said. "She is enthusiastic, engaging and mesmerizing in the classroom, but her contributions go far beyond that."
Randall Bonnell, who graduated from Mizzou in 2013 with a bachelor's in geological sciences, said Barquero-Molina provided invaluable guidance as his academic advisor. Today, he is a master's of science candidate in the geosciences department at Colorado State University.
"She treated my peers and me with sincere devotion and support," he said. "My peers consisted of traditional students, first-generation students and international students. Miriam's talents as an academic advisor garnered success for all of us. I could not have achieved my ambitious academic goals without her guidance."
Eric Sandvol, a professor in MU's Department of Geological Sciences, said Barquero-Molina's ability to teach students in the field is unmatched.
"Teaching outdoors takes a unique ability to organize, connect with students and convey complex, three-dimensional geometrics to students," he said. "Field camp is often the first time students have had a chance to actually apply what they have learned in the classroom to the earth, and this is usually a struggle. Miriam can help these students better than anyone I have ever observed."
Casey Thater, a graduate of MU who majored in geological sciences and minoring in biological sciences, said Barquero-Molina helped make his dream to become a vertebrate paleontologist come true.
"For a while, I only had an inkling of how to make this dream a reality," he said, "But with Miriam's guidance, she has sent me on the path to turn that wild dream into a planned life goal."
Thater said Barquero-Molina has been an inspiration to him and his peers, and that her contributions to the geological sciences department have not gone unnoticed.
"In short, Professor Miriam could never be replaced by one person," he said. "It would take an army."
Among Barquero-Molina's many awards and honors are the MU Chancellor's Excellence Award for Undergraduate Faculty, awarded in 2018; and a recognized mentor at the MU Honors Convocation in 2012, 2013, 2014, 2015 and 2016.
Barquero-Molina earned her bachelor's and master's degrees in geological sciences from the University of Oviedo in Spain and the University of Wisconsin-Madison, respectively. She earned her doctorate in geological sciences from the University of Texas at Austin.